Step it up for Valentine's Day and make this deceptively simple Bailey's Strawberries and Cream No Bake Dessert. It's tasty, pink and a perfect way to make it look like you put in a lot of effort.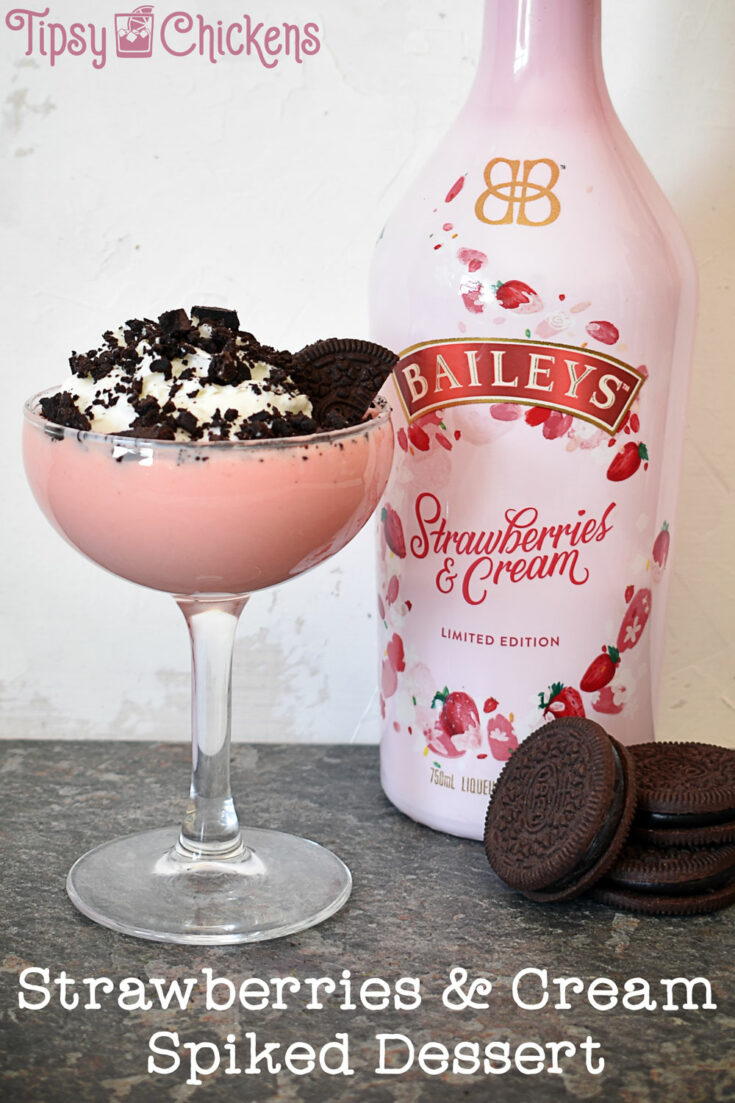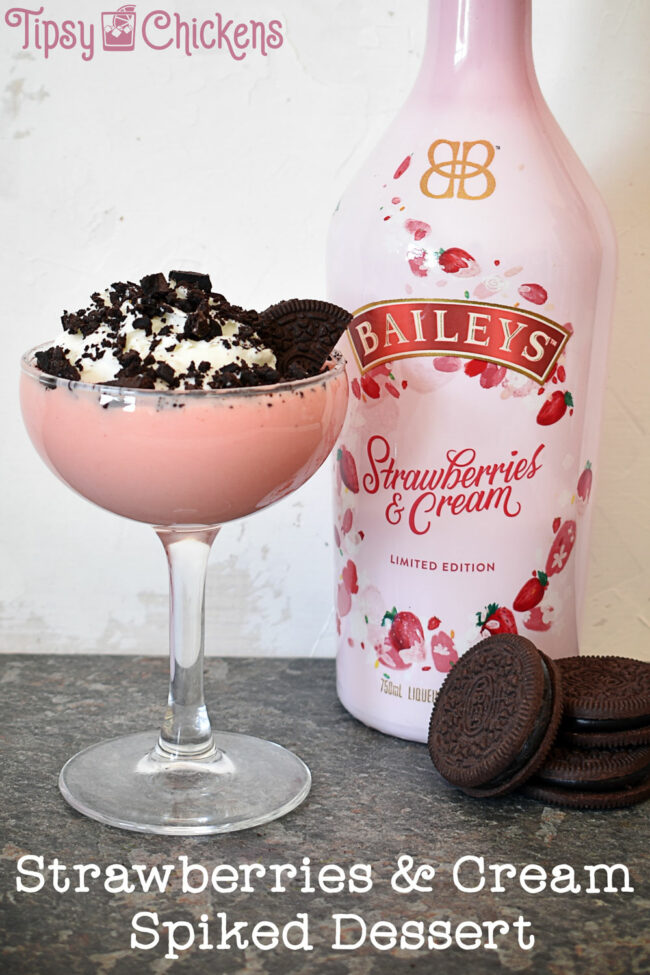 The hardest part is making the pudding ahead of time. It takes longer than the 5 minutes advertised on the box, I like to make it at least the night before but if you can give it a full 24 hours it will continue to thicken up.
How to Make Alcoholic Pudding
It's a hobby of mine to make instant pudding with alcohol in it. It's also a hobby of mine to fuck up simple tasks because I'm doing too many things at once. Both are relevant today.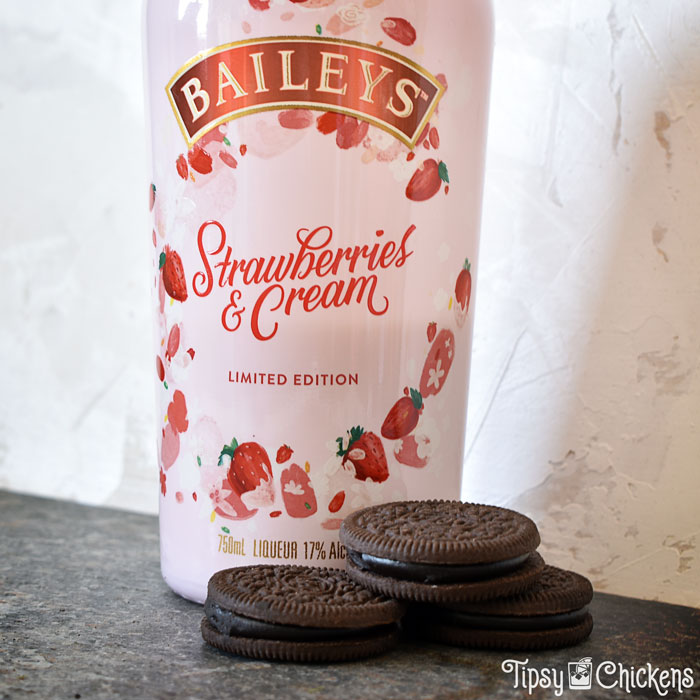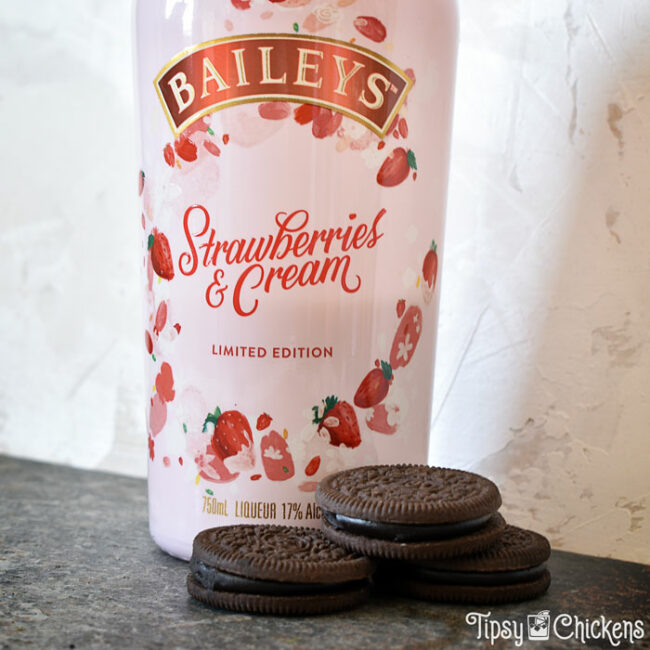 I was whipping up the booze spiked pudding while also cleaning my entire home and making some soup. My general formula for making drunk pudding is to use 1/2 alcohol and 1/2 heavy cream to make up for the lack of milk. Instead my distracted ass used 2 cups of booze, aka almost the entire bottle of Bailey's Strawberries and Cream.
Don't do that. Your pudding won't set and you'll feel really dumb. The only way to come back from that is to add another box of pudding and 2 cups of heavy cream.
On the bright side I have a giant bowl of tasty pudding to enjoy all on my own.
Spiked No Bake Valentine's Day Dessert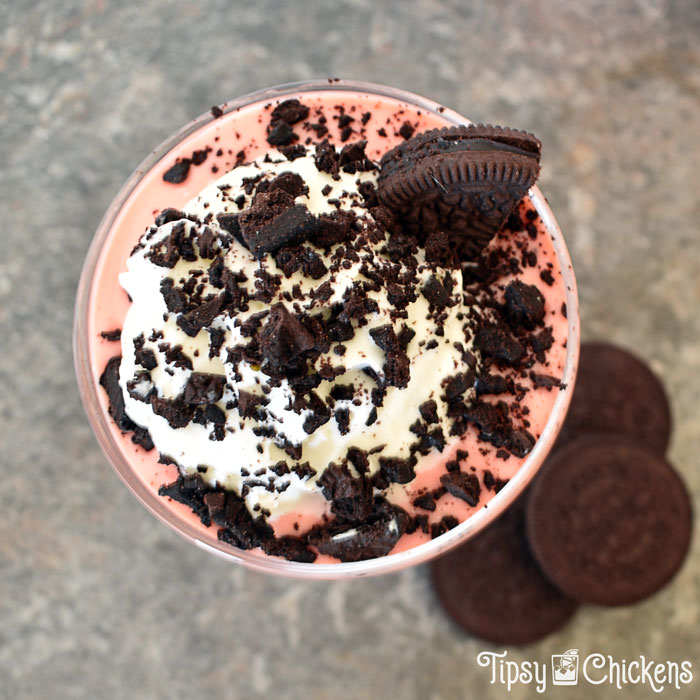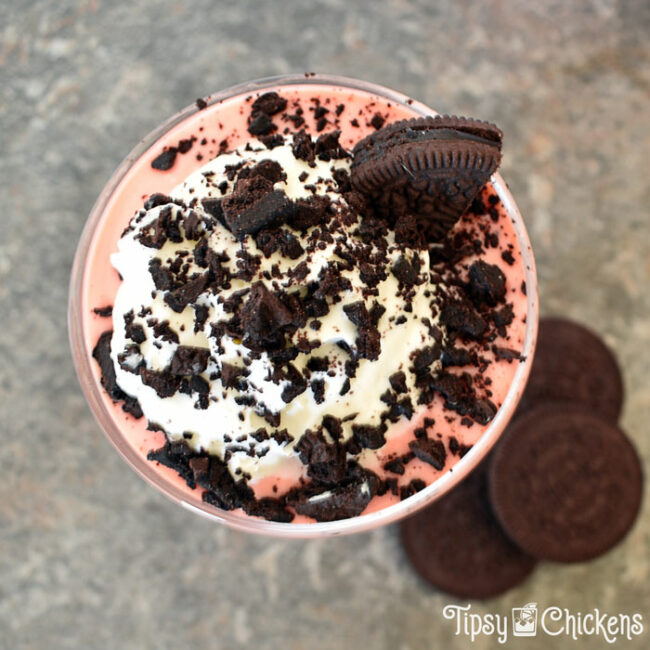 If you really want to make a good impression this Valentine's day you need to turn this pudding into a fancy no bake dessert. I used one of my regular coupe glasses but I had grand ambitions for a pretty layered dessert in stemless wine glasses.
They were squashed by strep throat and a pair of ravenous children that devour strawberries like cartoon piranhas. Instead I spooned the pudding into the glass, topped it with whipped cream and crushed dark chocolate Oreos.
You can prep your ingredients early but don't put the desserts together until serving.
Strawberry 'Sauce'
My original plan was to chop the strawberries up, sprinkle with sugar and let them create a delightful sauce. Sugar pulls the liquid out of the berries and breaks them down within minutes.
Chop up a handful of strawberries, sprinkle a spoonful of sugar over them and stir it all together. Let the mix sit at room temperature for 10 minutes or until the berries are soft and sitting in a puddle of juice.
Fancy Assembly
This is where we go into 'what I was going to do' territory. Ok, so you make your pudding, sugar your strawberries and chop up your Oreo's.
Grab a clean, clear glass (water spots are not acceptable on Valentine's Day*) and start layering in the ingredients. How much you'll need of each thing depends on your glass and how many layers you want.
Do it however you want but I would start with the pudding, then add strawberries, whipped cream and top it off with the Oreo's.
Let's be honest here, I'm spending Valentine's Day alone and I'll just be dunking Oreo's in strawberry pudding and shoving them in my face.
V-day aside this would be a great for Mother's Day, Easter or any time you need a little bit of booze in your desserts. Even without adding fresh berries you get a lot of strawberry flavor from the Baileys. It does have that distinct alcohol flavor to it but it's mild and all the flavors (chocolate, strawberries and whipped cream) belong together.
*That's a joke, I've never been a fan of Valentine's Day and I think going overboard to show someone you love them on ONE day is dumb when you could be making them alcohol enhanced pudding all the time.
Don't forget to pin this to your dessert board so you can find it later!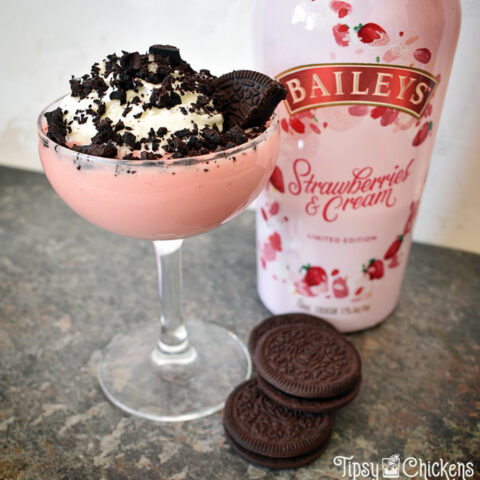 Bailey's Strawberries & Cream No Bake Dessert
Total Time:
8 hours
10 minutes
Impress your Valentine with a deceptively simple, boozy No Bake Dessert made with Baileys Strawberries and Cream, Dark Chocolate Oreos and Whipped Cream
Ingredients
Pudding
1 Package Instant Vanilla Pudding
1 Cup Bailey's Strawberries & Cream 
1 Cup Heavy Cream
Optional: Red Rood Coloring
Bailey's Strawberries & Cream Dessert
Prepared Pudding
Dark Chocolate Oreos, chopped or crushed
Whipped Cream
Optional: Chopped strawberries sprinkled with sugar
Instructions
Pudding:
Whisk together pudding mix, Bailey's and heavy cream. Add several drops of red food coloring if you want pink pudding.
Place covered in the fridge over night to set. It will be softer than regular pudding.
Simple:
Spoon pudding into coupe glass and top with whipped cream and crushed Oreos
Or Get fancy:
Layer pudding, strawberries, whipped cream and chopped Oreos, pudding, strawberries, whipped cream, and finally more Oreos into serving glasses
Notes
If you're going with the fancy presentation (look at you with someone to impress!)
You can prepare the ingredients ahead of time but assemble just before serving or the Oreos will soften.
Using a narrow glass (big enough for a spoon) will give you layers more visual appeal
Recommended Products
As an Amazon Associate and member of other affiliate programs, I earn from qualifying purchases.
Check out my Dessert Page for more sweet & spiked recipes or start here: