Some gatherings call for a classy drink served on a larger scale. You can't beat a champagne for class and this recipe for Pineapple Lime Champagne Punch is a sure fire crowd pleaser served up in a punch bowl or fancy pitcher.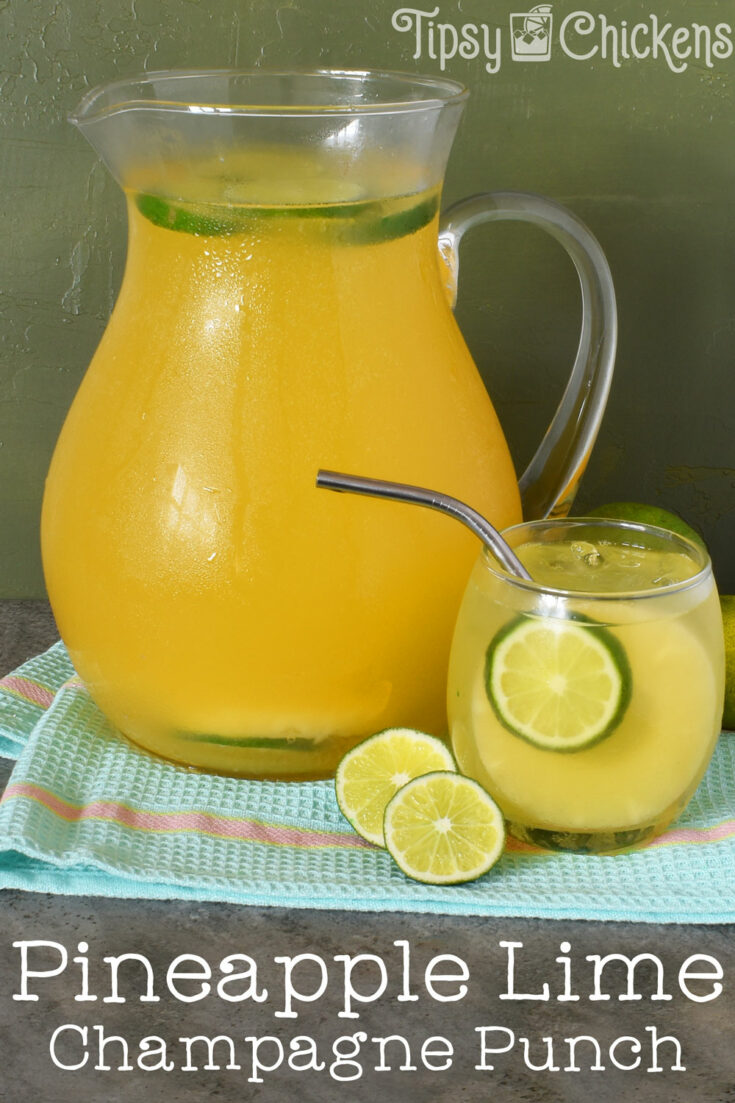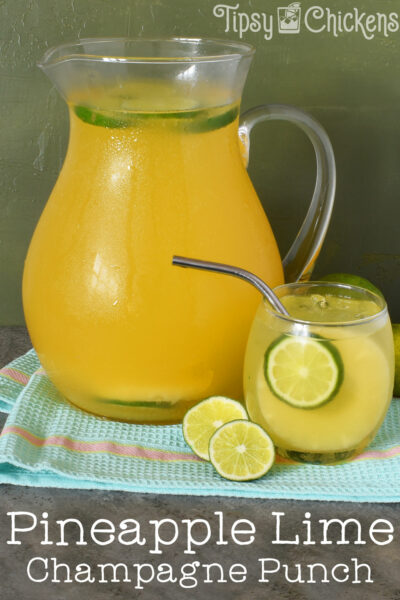 I've have this recipe floating around in my head for a few months but I hate wasting food (and drinks) and drinking a whole bottle of champagne alone seems like a questionable activity. Luckily my sister came over with her boyfriend over the weekend and it was the perfect time to try this recipe out.
You don't have to sip it in the kitchen while Pinterest searching for red kitchens though. This recipe for a fruity champagne punch would fit quite nicely at a bridal shower or a Mother's Day brunch. If you can serve Grandma a mimosa you can give her some champagne punch too.

The Booze
Obviously the star of this show is the Champagne, or else it wouldn't be a champagne punch. I'm a cheap bitch in general and this is not the time to be buying expensive champagne.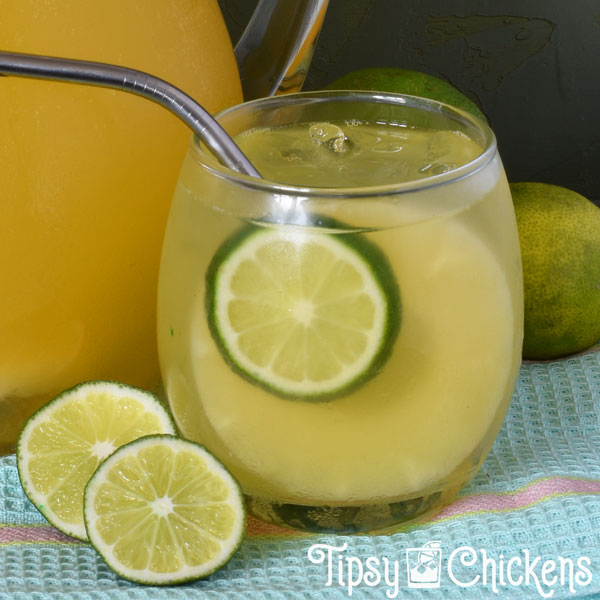 I went with my old stand by Andre Brut Champagne for this. If you're interested in the magical world of champagne sweetness ranking I really get far to into it in my Cinnamon & Gold Champagne cocktails post.
The general idea is that Brut is the least sweet and works well in recipes like mimosas or champagne punch where you'll be adding in sweetness with fruit juice.
The other alcoholic addition to this champagne punch is ginger brandy. I've used it before in my Winter White Wine Spritzer, it does a great job bringing a little bit of warming gingery spice and cutting down the sweetness in a drink.

The Build
You can make this champagne punch in a pitcher or a punch bowl, I don't have the later so I stuck with my fancy pitcher. Start by adding ice, I used the penguin ice you can buy at grocery stores or gas stations. Avoid ice chips or crushed ice, they'll melt too quickly and you'll end up with mild chilled watered down punch.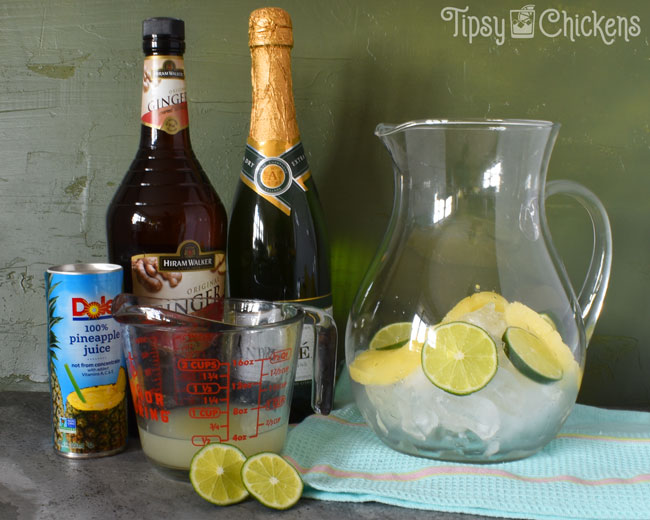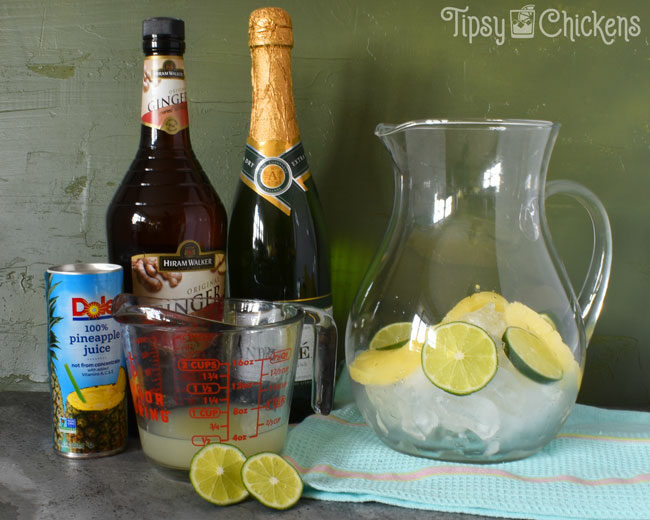 After adding the ice I like to throw in my garnishes. I used canned pineapple rings and 1/8 inch slices of lime. The pineapple sort of disappears after you add the pineapple juice but it's a tasty snack once the punch is drunk.
Pour in the lime juice, ginger brandy and both cans of pineapple juice. Make sure you give the cans a good shake before you open them up, you want all the pineapple goodness that settles to the bottom of the cans to end up in the punch.
Give it a good stir and then pour in the champagne. You can leave it here and have an extra boozy champagne punch but I decided to add some more bubbles and dilute the alcohol a bit with some seltzer.
The point of making your own cocktails is that you get to control the flavor and intensity, do a little taste test before you add the seltzer, if it's too strong add 1/2 a liter, and taste again. I ended up adding the whole bottle.
Then my sisters boyfriend and I drank 3/4 of it in an afternoon so I was pretty happy I didn't leave it high test.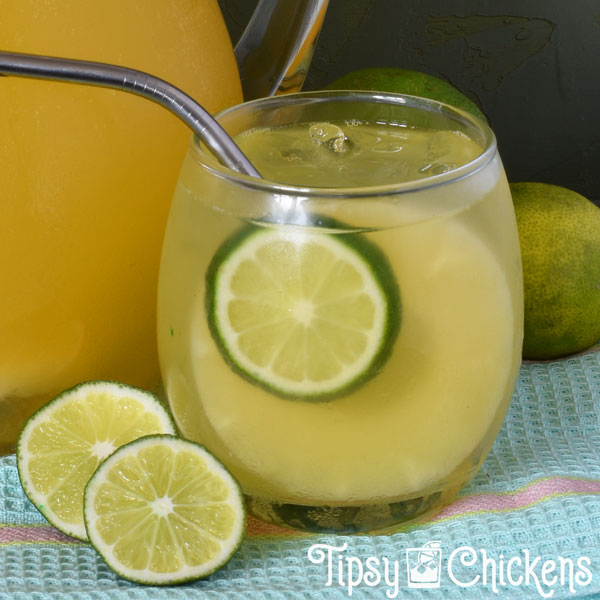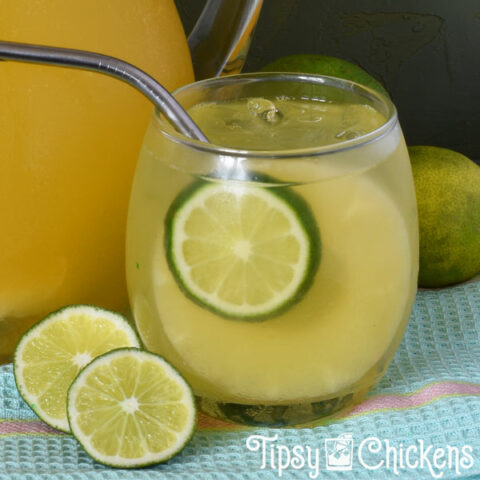 Pineapple Lime Champagne Punch
Ingredients
1/2 Cup Fresh Squeezed Lime Juice
3/4 Cup Ginger Brandy
2 - 8.4oz Cans Pineapple Juice
1 Bottle Champagne
.5-1 Liter Vanilla or Plain Seltzer
Ice
Pineapple Rings & Lime Slices for garnish
Instructions
Fill 1/2 of pitcher with ice and add pineapple rings & lime slices
Pour in lime juice, brandy and shaken pineapple juice & stir
Pour in Champagne
Top with seltzer to taste
Serve Immediately
Notes
The seltzer doesn't change the flavor, it just dilutes it. If you want your punch to have less bite add the whole bottle of seltzer or leave it out if you prefer a stronger drink.
Recommended Products
As an Amazon Associate and member of other affiliate programs, I earn from qualifying purchases.
Check out my Summer Cocktails Page for more recipes or start here: