I was driving to my mom's for Sunday dinner with my boyfriend and my girls. Chris Stapelton was singing about Tennessee Whiskey when all of a sudden my boyfriend asked if strawberry wine was 'a thing'.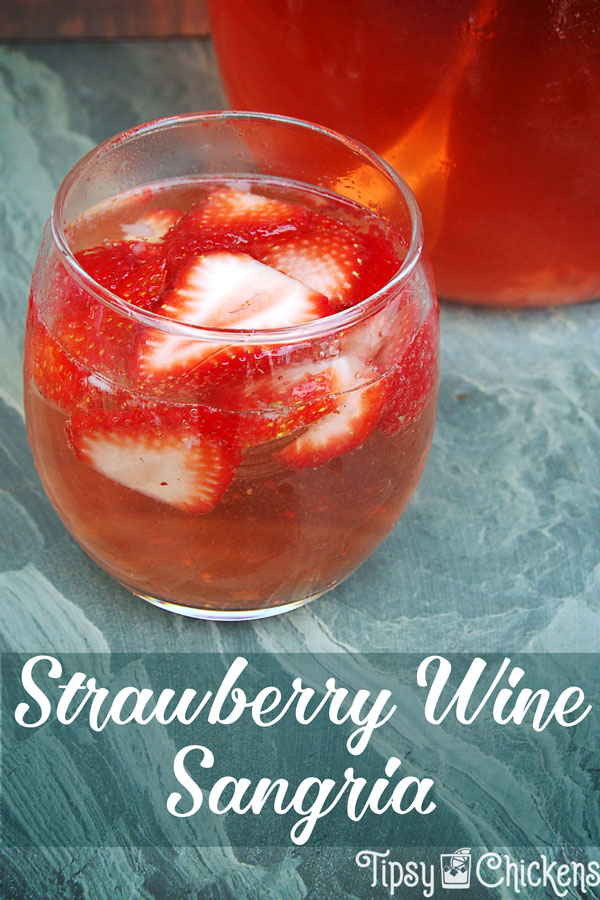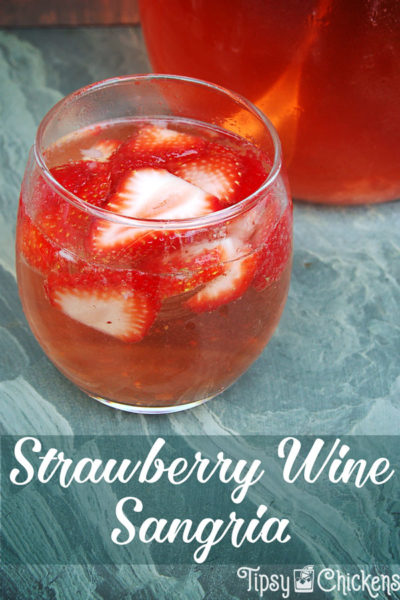 My initial reaction was, probably? I'm not well versed in fruit wine but strawberry wine makes a few appearances in country music so it's probably not completely made up.
Strawberry Wine was the soundtrack to my childhood. I sang along to that song for years, having absolutely no idea what I was singing about. So surely, strawberry wine is indeed 'a thing.' Deana wouldn't lie to me right?
While I was able to find a few bottles of strawberry wine while wandering though the liquor store I ended up making this batch of Strawberry Sangria with moscato. I grabbed a giant 1.5L bottle of Beringer Pink Moscato.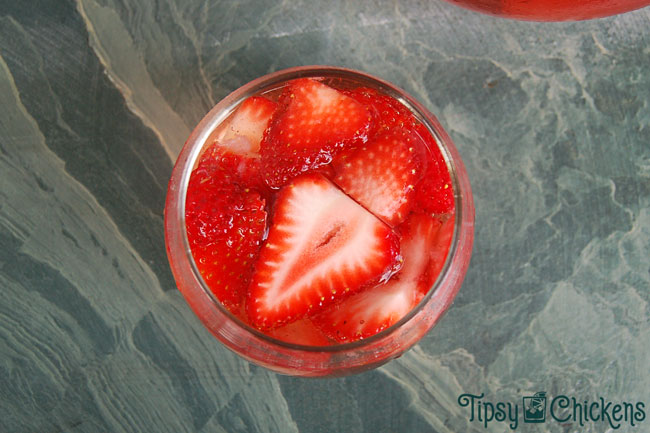 The label claims it has hints of ripe berry and I thought that would work fantastically with all my strawberry flavors. I'm not a huge sweets fan, so I wanted something that would taste like fresh strawberry but not be a sugar bomb.
Instead of using a sweet strawberry liquor I reached for a bottle of Cruzan Strawberry Rum and some Triple Sec. I chopped up a full container of strawberries and dumped them in a glass quart jar. In went the rum and triple sec then it took an overnight nap in the fridge.
You don't have to let the fruit soak but it does add to the flavor and color. The downside is the strawberries look absolutely gruesome after a night in booze, much like myself…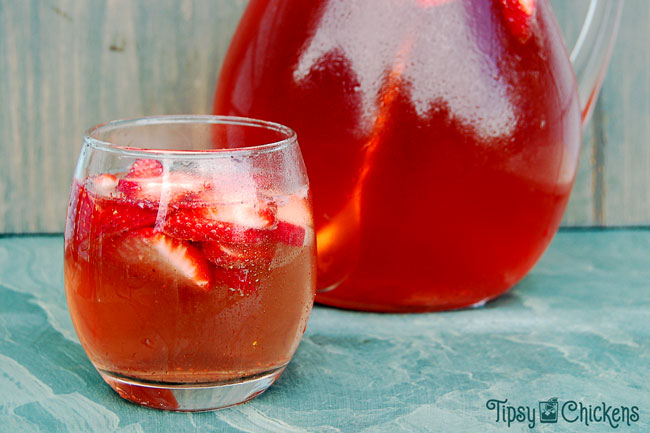 The next day I strained the now-red booze into a large pitcher. Add the wine and another pile of sliced strawberries. Pop it in the fridge to get nice and chilly.
Right before serving top it up with some bubbly seltzer and give it a quick stir. Those super fancy looking bar spoons are great for that!
Don't forget to PIN this to your Drinks Board!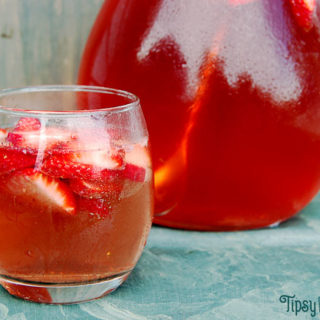 Strawberry Wine Sangria
Yield: 10 Servings

Prep Time: 10 minutes

Total Time: 10 minutes

Kick back with a pitcher of strawberry wine sangria this summer. Sweet and a little bit bubbly, this fruity sangria is easy to make and easier to drink
Ingredients
1 cup Strawberry Rum
1/2 cup Triple Sec
1 carton Strawberries, trimmed and chopped
1.5 L Bottle Pink Moscato
1/2 L Plain Seltzer
Strawberries, sliced for garnish
Instructions
Trim of stems and roughly chop strawberries, transfer to glass quart jar
Pour in rum and triple sec, cover with plastic lid and shake. Place in fridge for several hours or over night
Strain liquor into glass pitcher (save the berries for boozy smoothies!) pour in wine and stir. Chill until ready to serve
Just before serving top up pitcher with seltzer
Check out my Summer Cocktails page for more ideas or start here: