Tequila seems like a natural complement for a spicy jalapeno, after all it's what you find in all those sickly sweet Cinco de Mayo Margaritas when you're binge eating tacos.
But it deserves better and today we're making a special Jalapeno infused tequila and then turning that into a Spicy Matador.
The Matador Cocktail is delightful with plain tequila but if you're looking for something with an extra bite try this version. I'm not a huge fan of hot food but this has just enough of a burn.
The Spicy Matador
If you can handle a jalapeno popper you're good to go. If not try it with plain tequila, or half jalapeno tequila and half plain.
There is a hearty does of pineapple juice in this drink, that's what helps keep the heat from being over whelming. I bought a case of pineapple juice cans at BJ's to keep on hand for cocktails like this one and the Monster Smash I made for Halloween.
Make sure you shake the cans well before you open them up, the good juicy fruity bits all sink to the bottom and you really want them in this drink. Squeeze your limes fresh too, don't use the bottled stuff if you want a decent flavor.
This tequila cocktail is traditionally served on the rocks, at least that's what the book said, but I served it straight up after a good shake to get everything mixed up. If you sit this on the counter and forget it the pineapple will settle to the bottom and you will be confused.
Jalapeno Tequila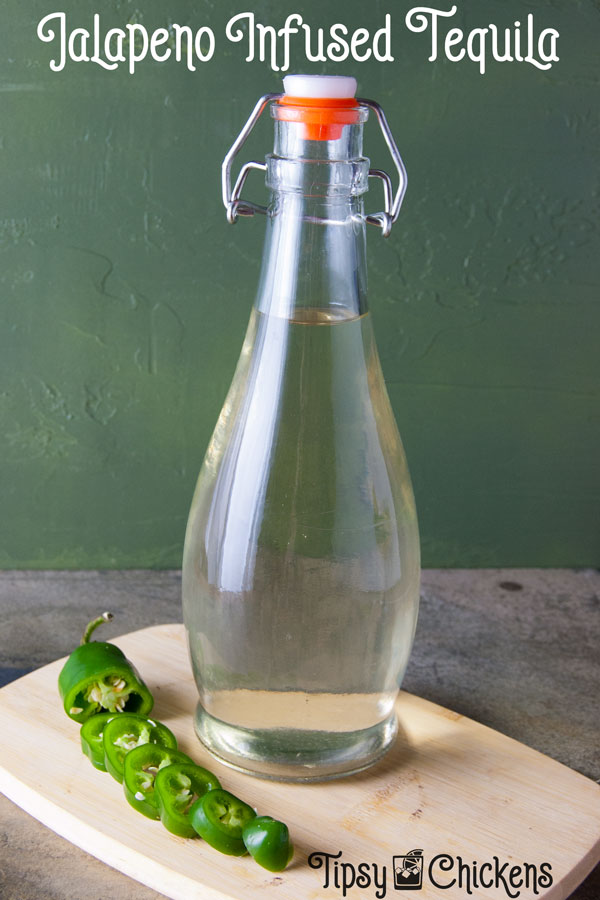 Jalapeno tequila is incredibly easy to make, maybe even easier than the Homemade Grenadine that I called the easiest bar recipe ever.
All you need is a clean jar with a lid, a jalapeno, knife and some tequila. Step one, remove your contacts before you have pepper juice on your fingers.
Step two is to slice the pepper and drop it into the jar, the real beauty of making your own jalapeno infused tequila is that you get to control the heat.
If you want to keep things on the milder side you can remove the seeds from the pepper. It will also get strong the longer it sits. I left mine over night but you can check yours at anytime from a few hours to a few days.
When the tequila has reached it's final state strain it into a clean glass. I love using rounded flip top bottles, they're pretty enough to give as a gift or keep for yourself.
I store mine in the fridge because I'm a freak about food safety. And that's all I'm going to say about that 😉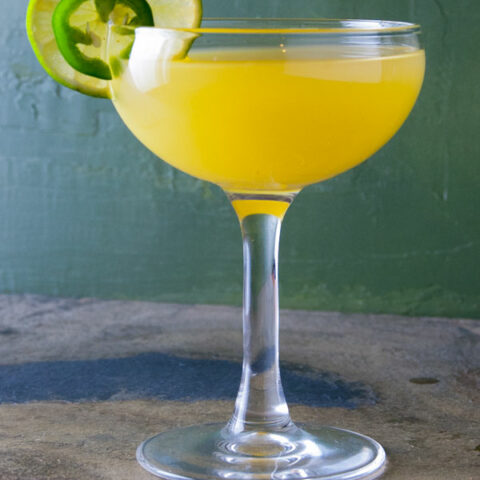 The Spicy Matador Cocktail
Yield: 1 Serving

Prep Time: 2 minutes

Total Time: 2 minutes

This gorgeous tequila cocktail has a bit of a bite. Jalapeno tequila adds a enough heat to balance out the sweet pineapple juice
Ingredients
1 1/2 oz Jalapeno Tequila
3 oz Pineapple Juice
1/2 oz Lime Juice
Ice for shaking
Lime & Jalapeno for garnish
Instructions
Combine all ingredients in a cocktail shaker and shake until chilled
Strain into a glass and garnish with lime & jalapeno slice
Recommended Products
As an Amazon Associate and member of other affiliate programs, I earn from qualifying purchases.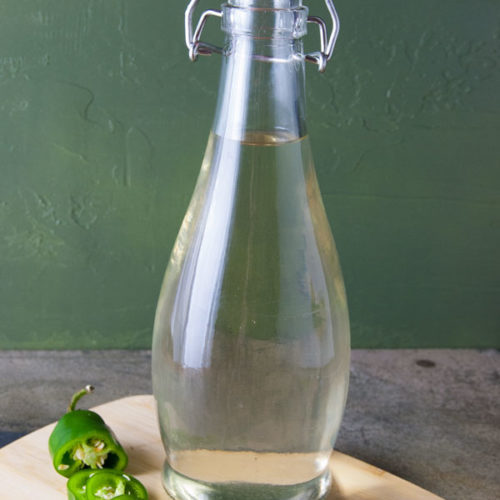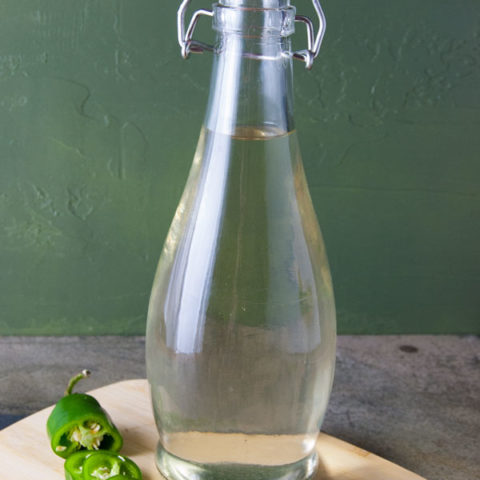 Jalapeno Infused Tequila
Yield: 2 Cups

Prep Time: 2 minutes

Rest Time: 2 days

Total Time: 2 days 2 minutes

Give your tequila some extra bite by infusing it with fresh jalapeno peppers. It makes a great gift or addition to your home bar
Ingredients
Sliced Jalapeno Peppers
100% Agave Tequila
Instructions
Slice jalapeno and place in a clean glass
Pour in tequila, cover and shake
Allow to infuse for several hours or up to 2 days
Strain and refrigerate
Recommended Products
As an Amazon Associate and member of other affiliate programs, I earn from qualifying purchases.

Check out my Fruity Cocktails page for more ideas or start here: