Pumpkin Spice Lattes are the true start to fall. When I'm sipping on a PSL it's October in my mind.
But drinking coffee at 6 pm isn't a great idea so I turn to Pumpkin Pie liqueur and Coffee liqueur.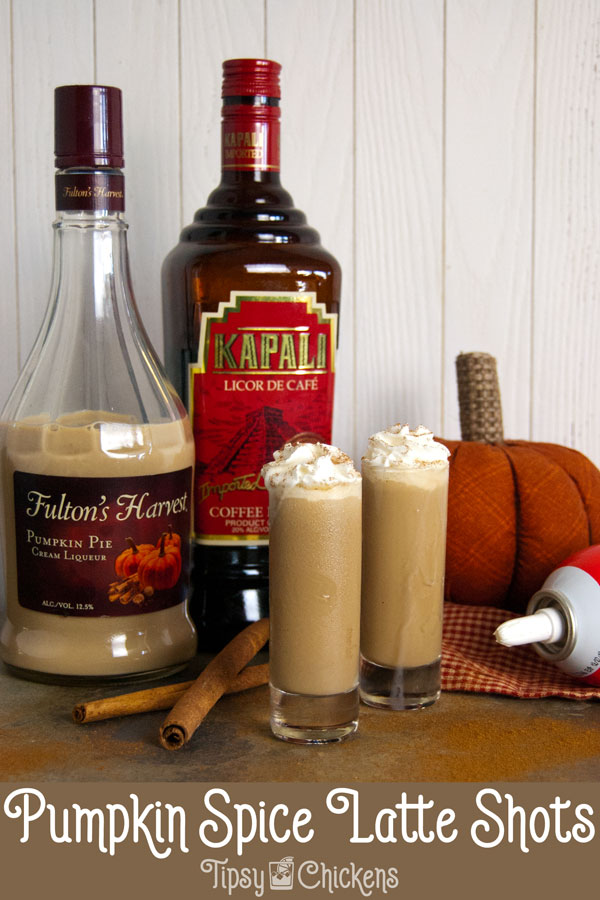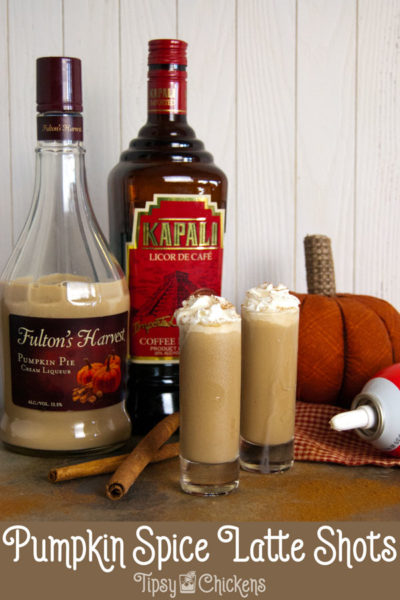 You see I wanted to take that delicious, comforting, autumn flavor and force it into a shot glass with a bunch of alcohol. And top it with whipped cream, of course.
You won't believe how easy that magical feat is. Turns out all you need is two bottles of booze and a can of whipped cream. A sprinkle of cinnamon makes them fancy but you can skip it if you're not a huge fan or the slight grittiness bothers you.
They're much cheaper than a Starbucks pumpkin spice latte so really this is all about saving money. And you can't drive after you drink a few so you're saving on gas!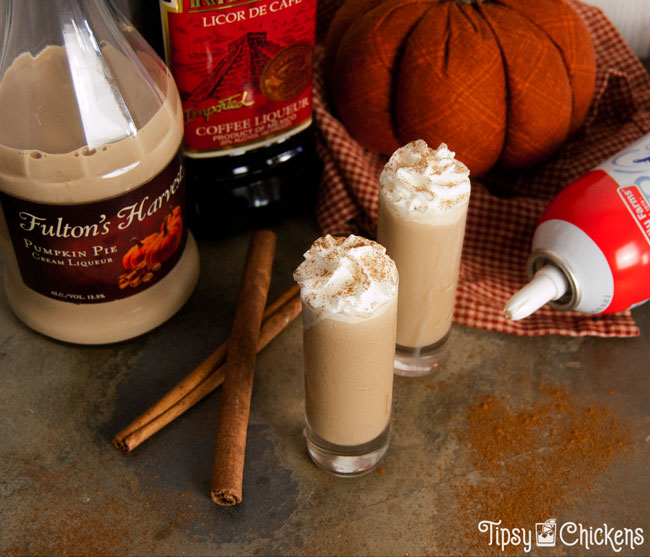 Ya know what, ignore that part. I've had a shitty week and my desperate grasp at optimism is making some weird leaps.
This is an easy shot to put together, there isn't any fancy layering like in the Grasshopper Shots and if you're wild and crazy you can get away with not measuring.
I enjoy measuring, I feel like a mad scientist when I pull out my jigger and a bunch of bottles. Pour the liqueurs over ice and either shake or stir depending on your mood.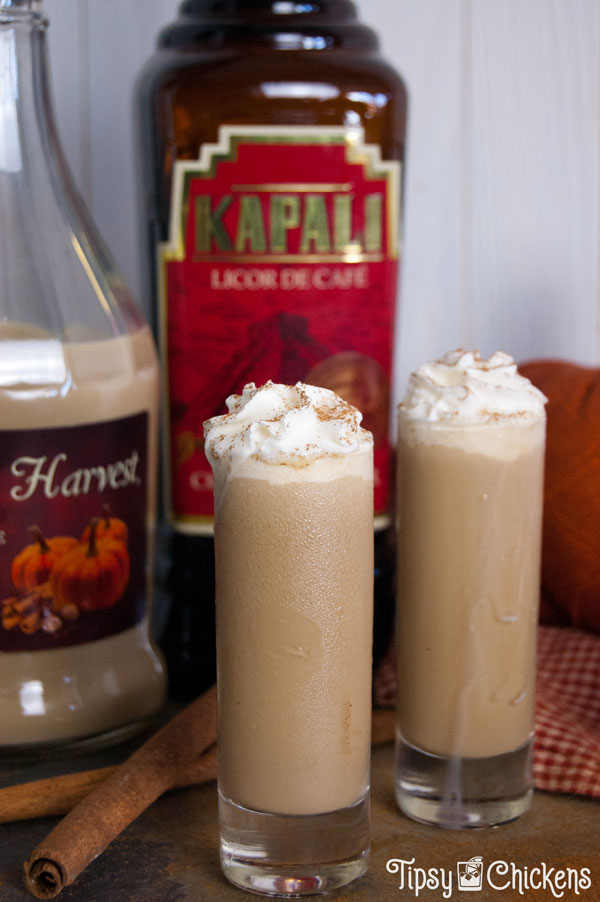 I used Pumpkin Pie Liqueur from Fulton's Harvest and Kapali Coffee Liqueur. If you happen to have a cream pumpkin liqueur from another brand on hand go for it. And let me know what it is in the comments so I can find some.
As for the coffee liqueur, you can use Kahlua if you happen to have more money than me to have that in your liqueur stash.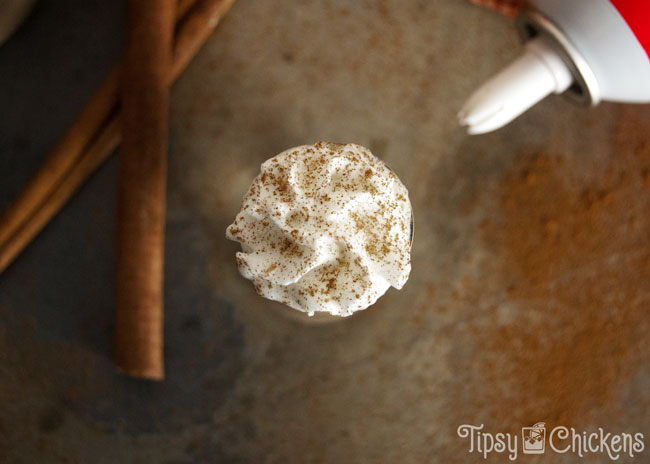 Technically those are different but this is a pretty heavy drink I don't think the difference is that noticeable. Carefully pour into your shot glasses, or sip it like a cocktail.
If you're being extra (and we all are because it's FALL and we can't help it) feel free to top it whipped cream and cinnamon. I know I did.
My non-drinking sister stopped by on the way to a date with her new man-friend and laughed at me with sweat pouring down my face shooting a pumpkin drink recipe in 5000 degree august heat. So I made her drink one.
It got the Amber seal of approval. I think that means they don't taste like alcohol. So be careful, PSL shots are dangerous!
As always, drink responsibly!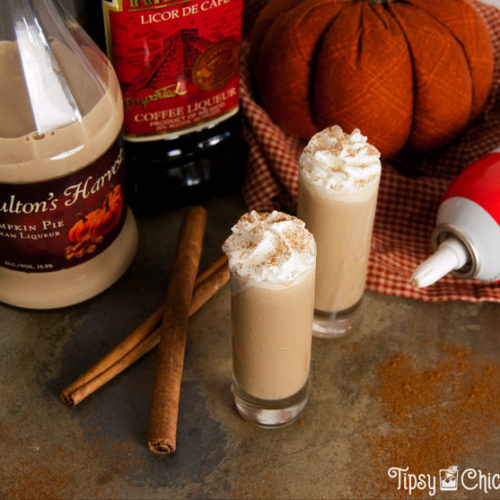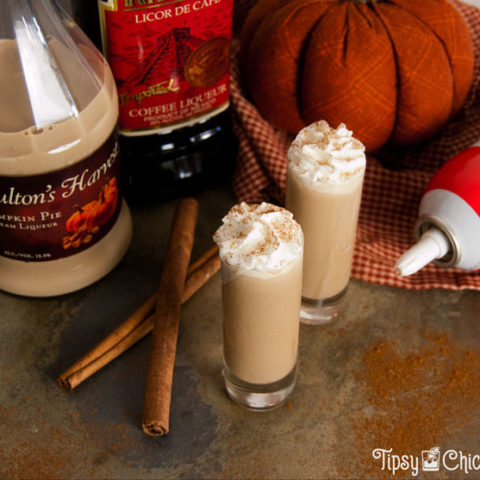 Pumpkin Spice Latte Shots
Throw back a shot inspired by everyone's favorite fall drink, the Pumpkin Spice Latte. This PSL shot has two ingredients and is sure to please any autumn lover
Ingredients
1 oz Fulton's Pumpkin Pie Liqueur
1 oz Kapali Coffee Liqueur
Whipped Cream
Cinnamon
Instructions
Shake Pumpkin Pie Liqueur and Coffee Liqueur over ice until chilled
Strain into shot glasses
Top with whipped cream and a sprinkle of cinnamon
---
Don't forget to PIN this to your pumpkin board!
Check out my Autumn Cocktails page for more ideas or start here: