Kick-off the holidays with sweet treats served in a DIY Peppermint Bark Shot glasses made with almond bark and crushed candy canes. If you can use a microwave you can make these shot glasses!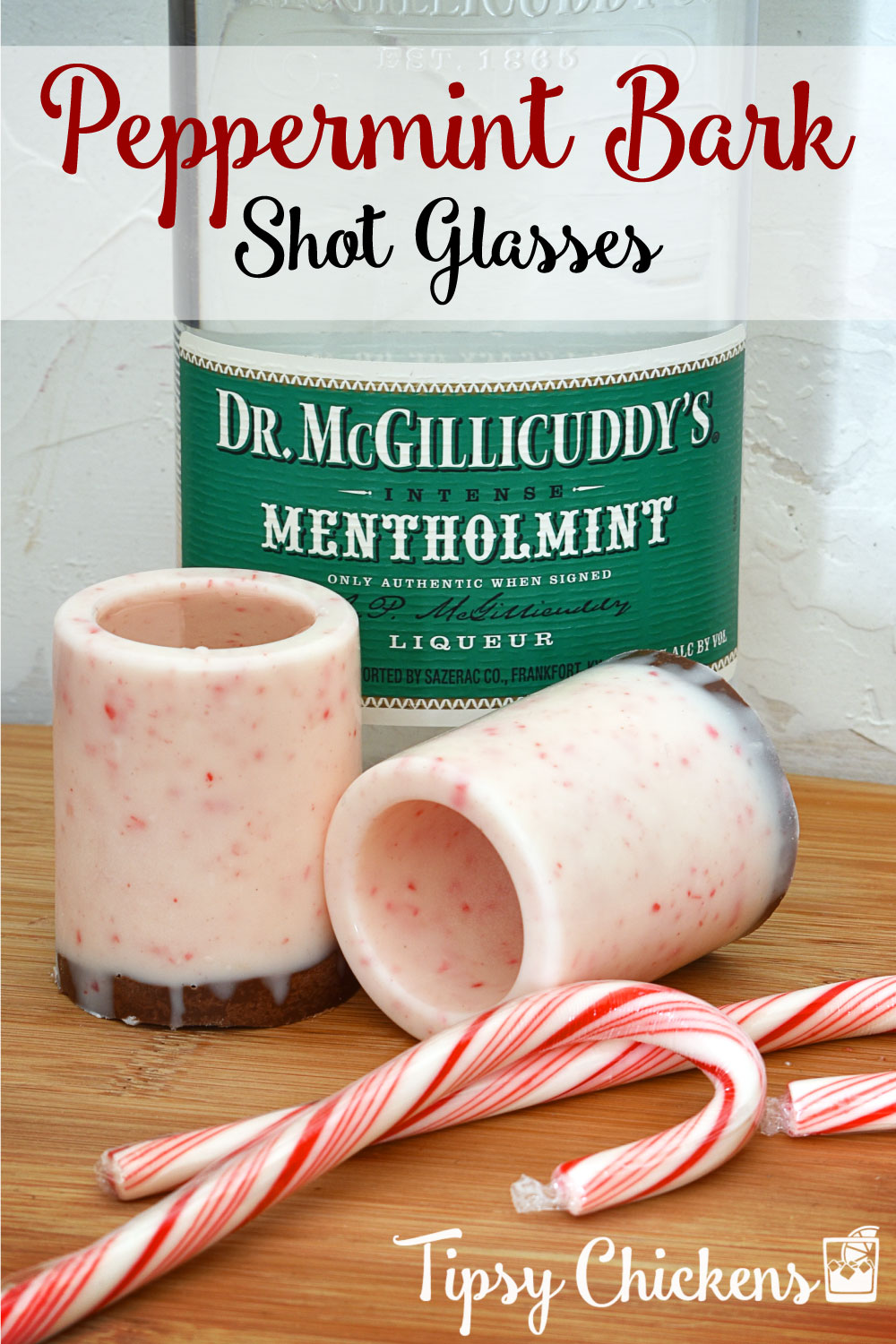 And even though they'd make the perfect holders for a tray of Christmas Shots they aren't limited to liquid. You can serve up a boozy mousse or even something kid-friendly like chocolate pudding.
If you want to kick that pudding up a few notches check out my recipe for Peppermint Chocolate Icebox Cake and serve the chocolate peppermint pudding filling in one of these shot glasses.
That's right, we're getting family friendly on the drunk chicken lady site. There is no alcohol in this recipe!
DIY Chocolate Shot Glasses
Real chocolate is a slippery fish, you have to do some modern wizardly to temper it or it won't set properly and your chocolate shot glasses will be sad.
Setting aside real chocolate we still have a few ways to play this and despite being very different in terms of price and flavor the process is more or less the same.
The cheapest option is Almond Bark, which you can buy in a large (literal) brick in white vanilla or brown chocolate flavor. I used to only see it during the holiday season but it seems to be available all the time now.
This is what I used, we're adding enough candy cane to cover up any odd artificial flavors. I bought my almond bark at Aldi.
The next option is to use Candy Melts, they're available in disks in about a hundred colors. If you go this route make sure you're not grabbing a flavored bag, I'm pretty sure the white candy melts are 'vanilla' but you never know what Wilton is going to come up with.
The bougiest option is also, in my opinion, the best tasting. You can buy Ghirardelli melting wafers in white and dark chocolate. The bags are smaller and they're more expensive but if you're a flavor snob you'll want to go this way.
I have played around with all three and I actually think the candy melts are the most temperamental and they have the least consistency between bags.
If you aren't familiar with working with chocolate or "chocolate" aka almond bark get the cheap stuff first and then when your more confident grab a bag of the good stuff.
Tips for Melting Chocolate
The biggest tip I can give you is to work quickly and heat slowly. You can use the candy and Ghirardelli melts right out of the bag but you'll need to chop up your almond bark so it melts better.
I prefer to melt my candy in the microwave because I'm lazy but if you don't have one or you're busy making a lot of popcorn you can melt the chocolate in a double boiler.
Chop up yout chocolate and dump it in a glass measuring cup, heat in quick 30 second blasts until it's soft and it turns into a thick liquid when you stir. You'll still have chunks!
Take a spoon and start stirring, and stirring and stirring. Microwaves are really good at unevenly heating and you have to stir to redistribute that heat.
Eventually, you'll have a nice fluid cup of chocolate. Your chocolate might thicken up a lot when you dump in the crushed candy canes, that's fine, just heat it for another 10 seconds and stir it up.
It won't be as fluid as its previous candy cane-less state but it's still going to work. Carefully pour/spoon the white chocolate/candy cane soup into the shot glass molds up to the top of the 'peg' that forms the inside of the shot glass.
Tap the mold on the counter to settle the chocolate and get rid of any air bubbles. Don't be shy, you can really bounce it!
Melt the brown chocolate (if you go the Ghirardelli route use the dark chocolate!) and fill in the rest of the molds. Let the chocolate shot glasses sit until completely solid.
When they're set pop them out of the molds and serve filled with chocolate pudding or mousse and top with whipped cream. Of course you can use them as shot glasses (and eat some candy as a chaser!) just be careful not to add anything too warm or the glasses can melt.
I was curious about the longevity of these edible shot glasses, for the sake of research I kept a glass filled with peppermint schnapps on my desk for 2 hours. There wasn't any change in the glass, it didn't get soft or gummy. So you should be safe to fill them up ahead of time.
As far as eating the glasses, it's a bit tricky to get a good bit but they are 100% edible and pretty tasty!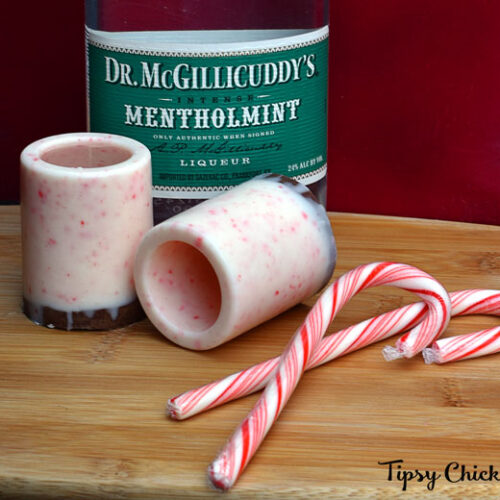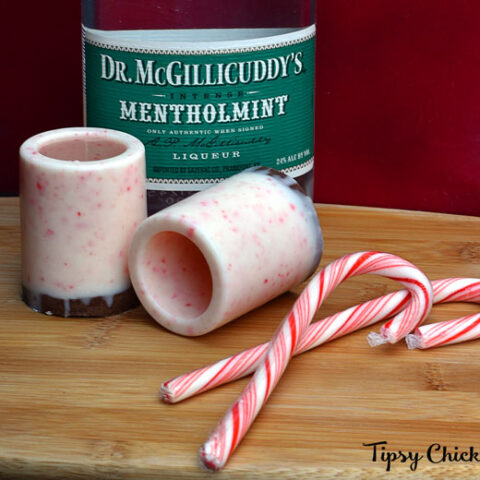 Peppermint Bark Shot Glasses
Kick-off the holidays with a sweet treat served in a DIY Peppermint Bark Shot glass made with almond bark and crushed candy canes. If you can use a microwave you can make these shot glasses!
Ingredients
6 bricks of White Almond Bark
4 crushed Candy Canes
2 bricks of Chocolate Almond Bark
Instructions
Chop white almond bark and melt in 30-second bursts in the microwave
Stir well between heating. Stop heating when there are still a few lumps left and vigorously stir until smooth
Mix in crushed candy canes, reheat for 10 seconds if the chocolate gets too stiff to work with
Fill bottom sections of the shot glass molds, up to the top of the peg
Tap the mold on the counter to settle the peppermint chocolate
Chop and melt chocolate almond bark
Pour into the molds to the top
Tap and let sit until hardened
Push up on the shot glass to remove from the mold, if the center sticks give it a squeeze and a twist to release
Notes
Crush unwrapped candy canes in a bowl with the bottom of a heavy glass or pickle jar.

Substitute almond bark with 12 oz white/ 4 oz chocolate candy melts or Ghiradelli chocolate melts
Recommended Products
As an Amazon Associate and member of other affiliate programs, I earn from qualifying purchases.
Don't forget to PIN this to your Christmas Board!
Check out my Winter Holidays page for more ideas or start here: