No time like Christmas to celebrate with a Grinch cocktail. But we aren't paying homage to the green guy here, I think it's time Martha May Whovier got some recognition.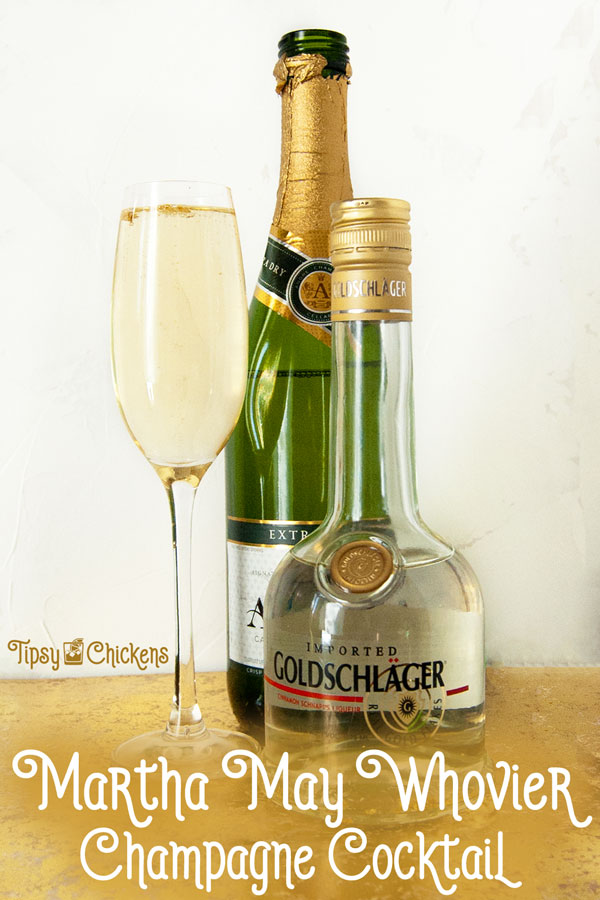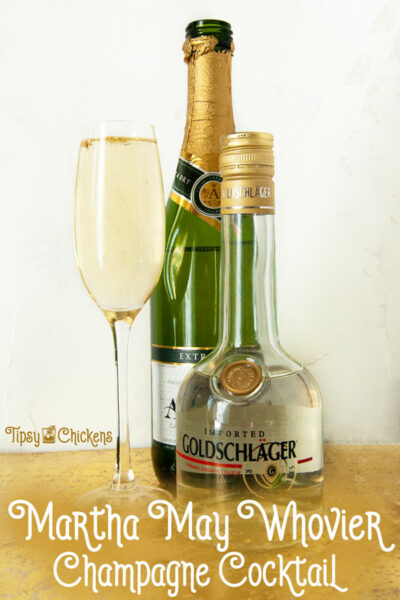 Martha May certainly seems like she needs a drink. She's got it pretty rough, she's in love with a green hermit that eats glass and the mayor doesn't seem to know what no means.
I can definitely relate. My boyfriend doesn't eat glass and I don't even know the mayor but I could really use a drink.
If you've been experiencing the holidays I'm sure you're ready for one too! I say that as someone who absolutely loves Christmas. But damn can it be overwhelming!
I cope mostly by watching the live-action Grinch move 1000 times and sitting in a room lit only by a Christmas tree, sometimes sipping amaretto hot chocolate or whatever drink I'm working on at the moment.
Put on your fanciest bathrobe and grab a bottle of Champagne, because it's time to get a little tipsy Martha May Whovi-ayyyyyyyyyy style.
The Booze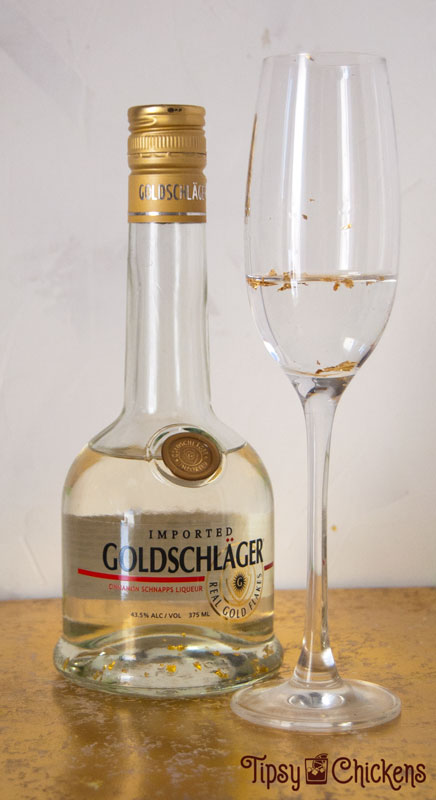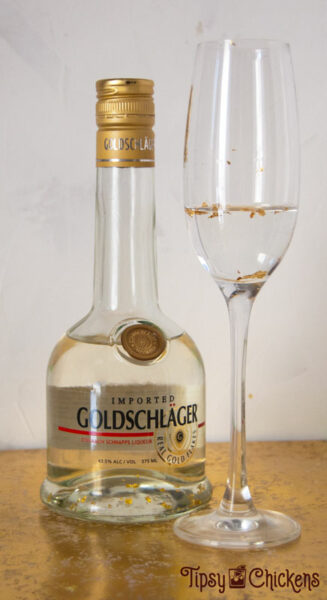 This Grinch inspired cocktail is all booze. Martha May ain't no light weight!
The flavored liqueurs in this drink are Triple Sec and Goldschläger. They're both clear, sweet and flavorful. They'll fill the glass about 1/3 of the way.
Triple Sec is flavored with orange and Goldschläger has a very strong cinnamon flavor. It also has little flecks of gold, which makes is perfect for Martha May Whovier. If you're looking for another Goldschläger drink check out my Christmas Candy Shot.
She seems like the kind of woman to put gold in her champagne, if that's not a life goal I don't what is. I also went one notch up on the extra meter by adding even more edible gold. The bubbles send it all to the top but it's still pretty fancy.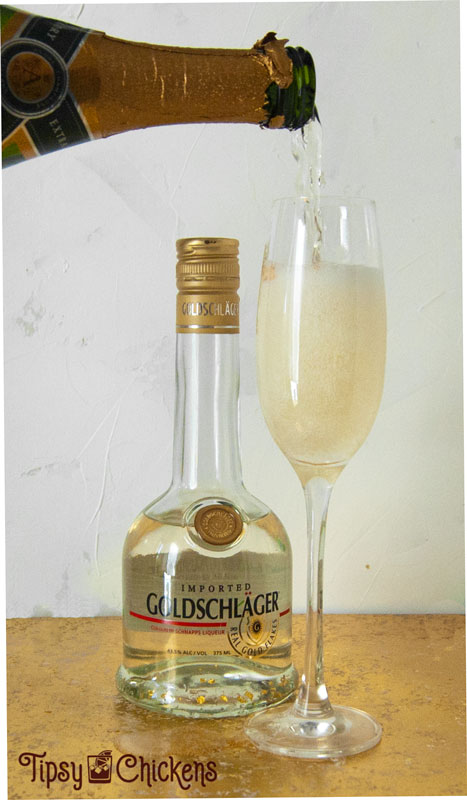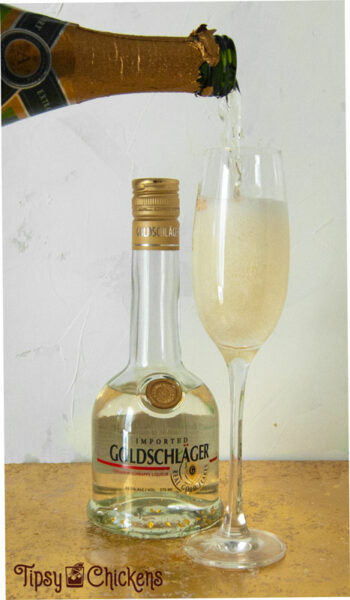 We'll be building this champagne cocktail right in the glass, the bubbles will to any mixing the pouring doesn't take care of. Obviously you'll need a bottle of champagne for this.
I usually buy Brut champagne for mimosas because that's what my mom buys. If you're wondering what all of that means you are not alone.
Champagne sweetness is ranked in a strange way with words that are only mean to confuse you. "Brut" champagne is the driest (least sweet) followed by "Extra Dry" or "Extra Sec" then "Sec" then "Demi-sec" and finally "Doux" which is the sweetest.
Traditional mimosas are made with Brut champagne and orange juice, the very sweet juice balances the dry champagne for a delightful breakfast treat.
If you're curious about which champagne I buy, it's usually Andre Brut which breaks the bank at $6 or so bucks a bottle. I know, I'm a big spender.
Somehow I grabbed the wrong bottle when I was taking pictures so I've made this with Brut and Extra Dry. I think the cinnamon Goldschläger overpowers everything so it didn't make much difference. I would avoid using something sweet.
Don't think this bubbly libation is only for Christmas! The cinnamon flavor and gold flakes make it a perfect New Year's champagne cocktail too!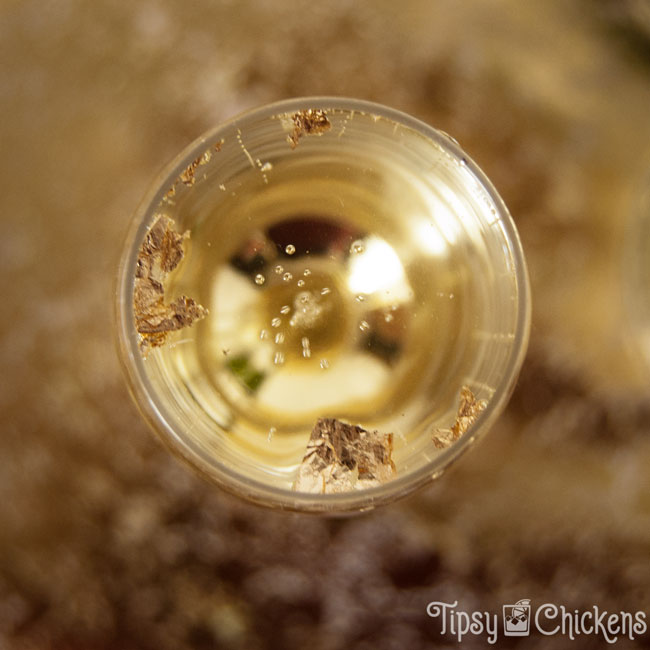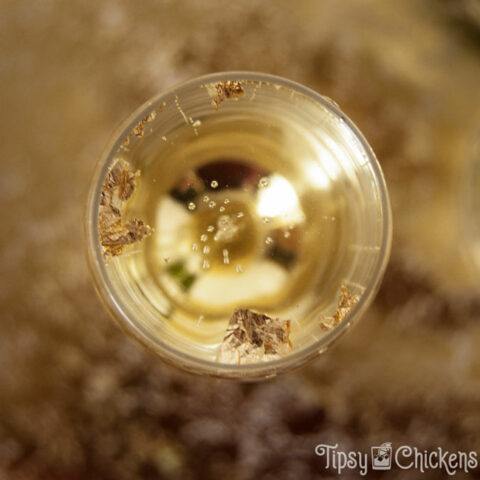 Martha May Whovier Champagne Cocktail
Yield: 1 Serving

Prep Time: 2 minutes

Total Time: 2 minutes

Party like you're in Whoville with a Champagne Cocktail Martha May Whovier would love. Dry Champagne, Triple Sec and Goldschläger are the perfect combination to enjoy under the mistletoe with that special someone in your life
Ingredients
1/2 oz Goldschläger
1 oz Triple Sec
Brut or Extra Dry Champagne
Edible Gold Leaf (optional)
Instructions
Drop a few flakes of gold leaf in a champagne glass
Pour Goldschläger and Triple Sec into champagne glass
Top with chilled champagne
Enjoy the tasty gold lava lamp you just created
Recommended Products
As an Amazon Associate and member of other affiliate programs, I earn from qualifying purchases.

Check out my Christmas Cocktails page for more ideas or start here: