Hot chocolate isn't just for the kids. Adding a bit of booze to a decadent cup of dark hot chocolate is the perfect way to wrap up any day spent out in the cold.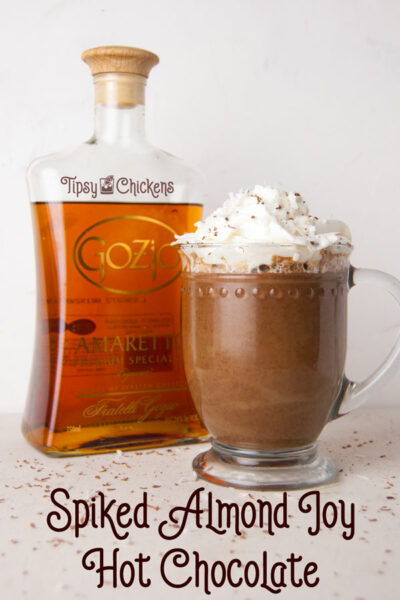 My favorite candy is an Almond Joy bar, preferably stolen from my child's Halloween candy.
The combination of dark chocolate, sweet coconut and an almond is absolute perfection. Why wouldn't we shove all that flavor into a single mug and top it with whipped cream?
Real talk, you can stop reading here and just add a generous splash of amaretto to any hot chocolate and you'll have a good time. But if you want to take it to the next level stick with me.
The Booze
I think almond was the clear flavor choice for this spiked hot chocolate recipe. Amaretto is an almond liqueur and it was the perfect fit.
Liqueur by definition is a flavored and sweetened hard liquor. It will add a bit of sweetness and a lot of almond flavor to the hot chocolate.
Spiked Hot Chocolate
Now that we've got the important stuff out of the way we'll go through the rest. Luckily Hot Chocolate is really hard to fuck up.
I used coconut milk because it gives you the creamiest texture, it does not however taste like coconut. That little bit of heaven comes from coconut syrup.
You can use regular milk or almond milk. Whatever you have just keep the sweetness and flavor in mind when selecting your milk.
Monin makes syrups and purees and a bunch of other flavored things that are delightful in coffee, cocktails and hot chocolate. You can buy them from Monin directly, shipping is free over $20 which is about 2 bottles of syrup and 2 pumps or get it from Amazon.
You really should get the pumps that go with the bottles, they dispense 1/4 ounce at a time and they cut the mess back to nothing. I was on a butter pecan coffee kick and spent enough at Dunkin last summer to buy my own franchise so I grabbed a bottle of syrup and it probably saved me a hundred dollars.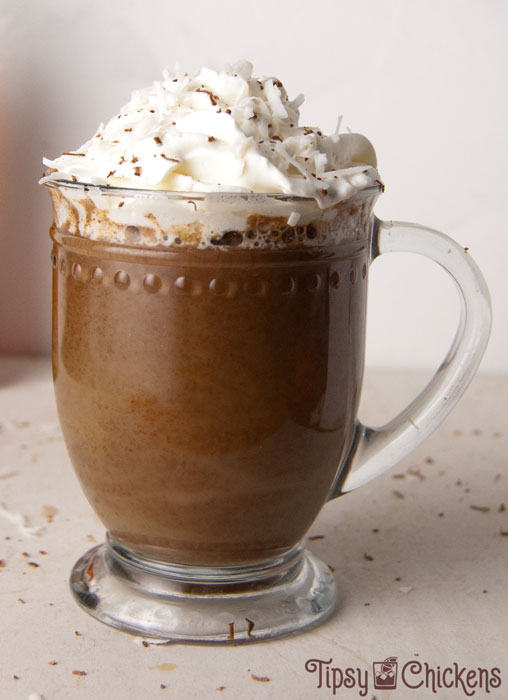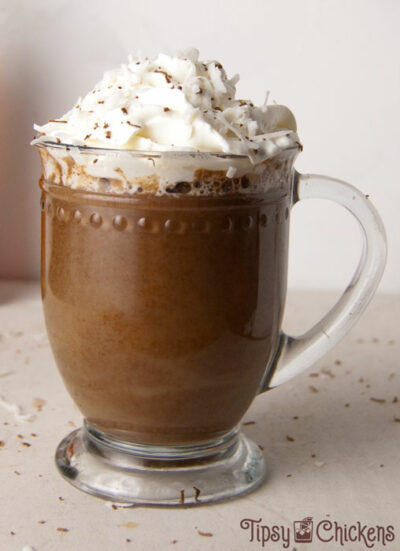 The other star in our spiked hot chocolate show is the chocolate of course. I used 56% semisweet bakers chocolate because it's cheap and I always have it on hand.
It melts really nicely, it's easy to chop up and it has good flavor. You can go all out and get expensive chocolate if you have someone to impress but I drink alone so I'm sticking to the Aldi's baker bars. Speaking of melts nicely, it will melt all over your hands so move quickly.
Start by heating up the milk in a small saucepan, you can probably use the microwave but I've never done it. When it starts to bubble around the edges dump in the chocolate and whisk it up.
It will go from white milk with brown flecks to brown milk pretty quickly. Pull the pan off the heat and add the vanilla extract, Amaretto and coconut syrup. I didn't add any sugar because I think you get enough from the coconut but you do you.
Pour it into mugs and serve with a mountain of whipped cream, chocolate and coconut shavings.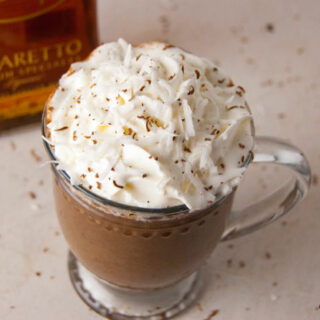 Spiked Almond Joy Hot Chocolate
Turn the chocolate, coconut and almond flavors of the Almond Joy into a decadent spiked hot chocolate for adults
Ingredients
2 cups Coconut Milk
4 squares Semisweet Bakers Chocolate, chopped
2 oz Amaretto
Splash of Vanilla Extract
2 pumps Coconut Syrup (1/2 oz)
Whipped Cream
Chocolate Shavings
Instructions
Heat coconut milk over medium heat in a small sauce pan to a light simmer
Whisk in chopped chocolate until dissolved
Remove from heat and add Amaretto, vanilla and coconut syrup
Serve warm topped with whipped cream, chocolate & coconut shavings
Notes
The finer you chop the chocolate the faster it will dissolve, I find it easiest to 'shave' the bakers chocolate with a sharp knife on a cutting board
Recommended Products
As an Amazon Associate and member of other affiliate programs, I earn from qualifying purchases.