The Lemon Meringue cocktail is a complex vodka and whisky cocktail with a blend of sweet, tart and herbaceous flavors.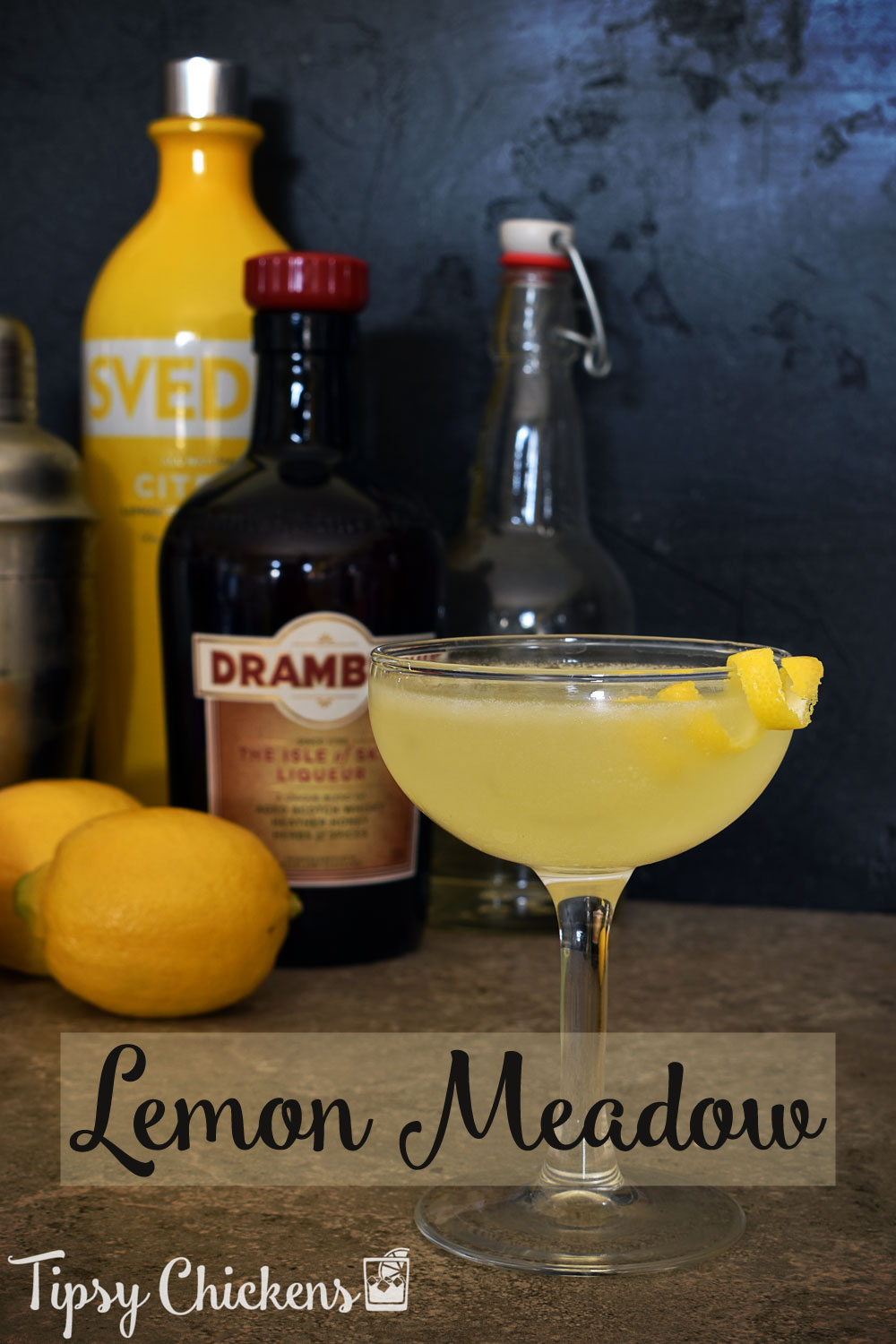 This unusual lemon cocktail gets a double dose of lemon flavor from fresh lemon juice and lemon vodka and an intoxicating but hard to place herbaceous honey flavor from Drambuie.
It's not shy on the alcohol, having over two ounces per serving. But I think you'll find the sour lemon, sweet honey and herbal notes balance out the bite.
The Booze
There are two types of alcohol in this lemony cocktail. The main source of the good stuff is the lemon vodka which makes up more than half the volume in this drink.
I used Svedka Citron but you can use whatever you have on hand or even make your own DIY Lemon Vodka.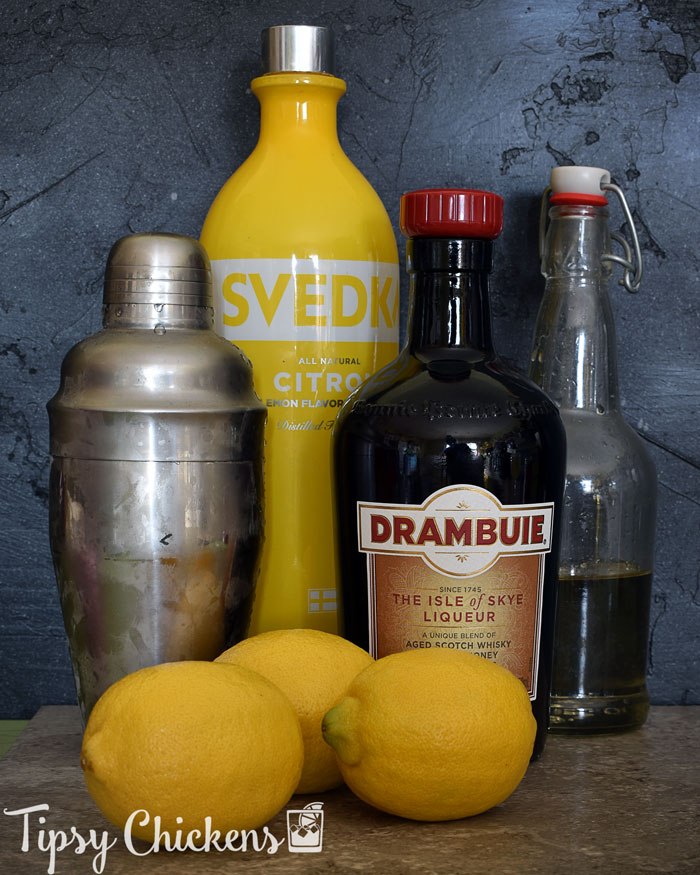 The second type of alcohol is a bit less common. What it lacks in awareness it makes up in complexity.
Drambuie is a whisky liqueur from Scotland. It's sweetened with heather honey and flavored with herbs and spices.
The Build
The Lemon Meringue is a shaken cocktail, you throw all the ingredients in a cocktail shaker with ice and go to town.
The shaking chills the drink, incorporates all the ingredients, and adds a bit of water to dilute the heavy alcohol content.
Shake hard until the outside of the shaker is frosty and very cold. Strain the drink into a chilled coup glass and garnish with a lemon spiral.
How to Make a Lemon Spiral
A lemon spiral is a simple but stunning cocktail garnish. You'll need a lemon zester with a large hole aka a channel knife.
Push the edge through the skin on the lemon and pull it all the way around the lemon, the longer the piece the better the spiral will look. This will shoot lemon oils all over the place so watch out for your eyes!
Wrap the strip of lemon peel around a chopstick or skewer and let it sit for a few minutes. Balance the lemon spiral on the edge of the glass.
Make the spirals as you need them, they will dry out if you leave them sitting on the counter for too long and they will slowly uncurl while they're sitting in the drinks.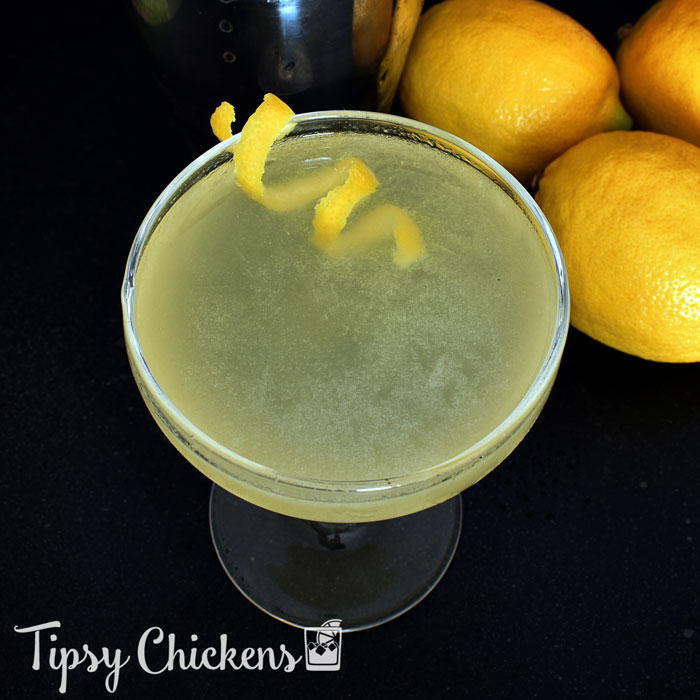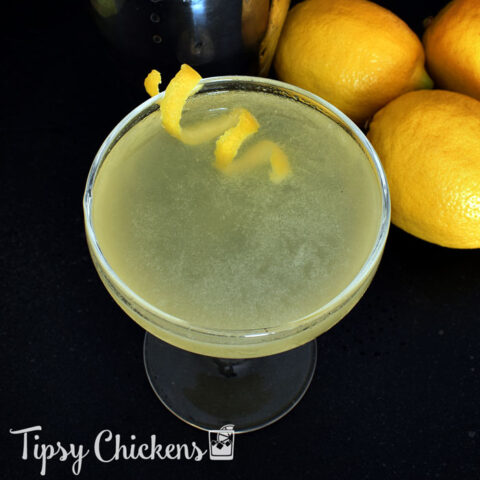 Lemon Meadow Cocktail
The Lemon Meringue cocktail is a complex vodka and whisky cocktail with a blend of sweet, tart and herbaceous flavors.
Ingredients
1 2/3 oz Lemon Vodka
1/2 oz Drambuie
1 oz fresh Lemon juice
1/4 oz Simple Syrup
Ice
Lemon Spiral
Instructions
Measure the first 4 ingredients into a cocktail shaker filled with ice
Aggressively shake until chilled
Strain into chilled coup glass and serve wit ha lemon spiral
Don't forget to PIN this to your Cocktails board!