I had a few bags of cranberries hanging around after the holidays and I didn't want them to go to waste but I wasn't quite feeling a cranberry tart. Turning them into cranberry lime vodka seemed like the best idea.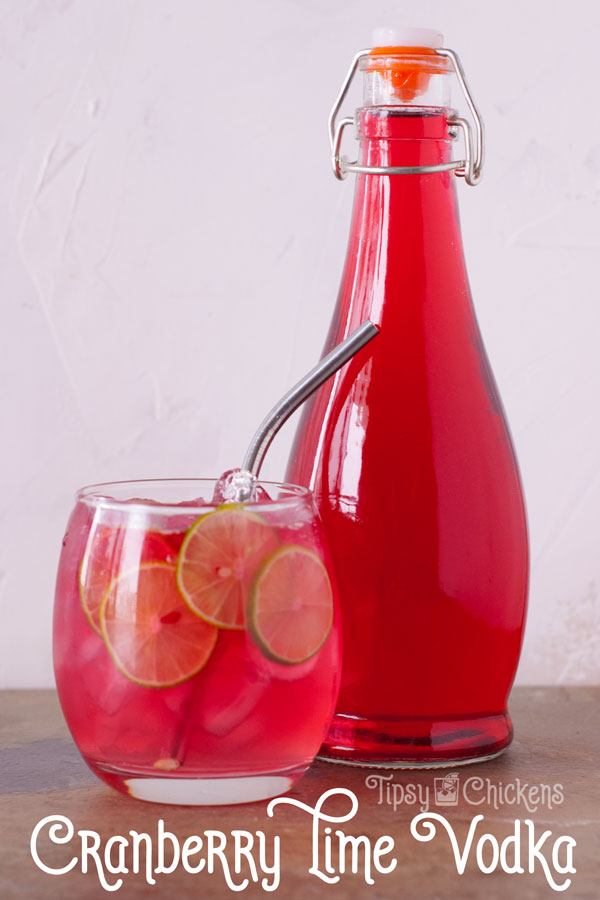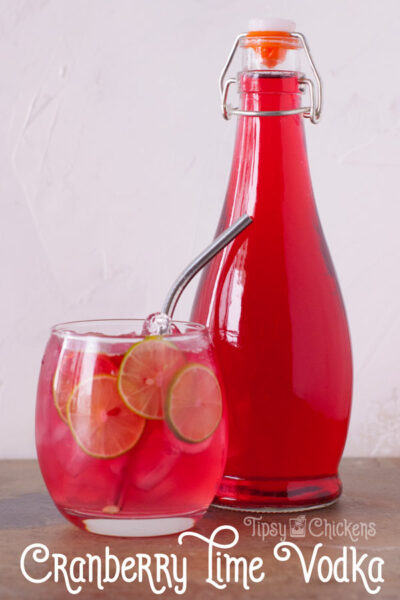 Vodka is the easiest spirit for infusing with flavors, it's a blank slate and you don't have to worry about competing with any other flavors. I used Svedka vodka, mostly because I happen to have a large bottle of it.
Making an infusion isn't the time you want to spend lots of money. You're going to be covering up any delicate flavors so as long as it's not particularly harsh grab whatever you have.
Adjusting the Flavor
Infusing alcohol is a great way to take your drink making to the next level, you can create custom libations to fit your particular palate.
If you want more cranberry flavor you can add the lime later or not add as much. Likewise if you're more interested in the lime and you only want a bit of cranberry you can add the lime in the beginning.
In general citrus gives up it's flavor much more quickly than berries, that's why I gave the cranberry a head start in this recipe. When you're making an infusion at home always take notes.
It's a simple process but things like fruit ratios, time spent in the jar and how much base spirit you add can give you very different outcomes. It would be awful to create something incredible and not be able to recreate it.
Next time I make this I'll give the limes less time, I think they ended up a bit too powerful for my tastes.
Finishing Up the Vodka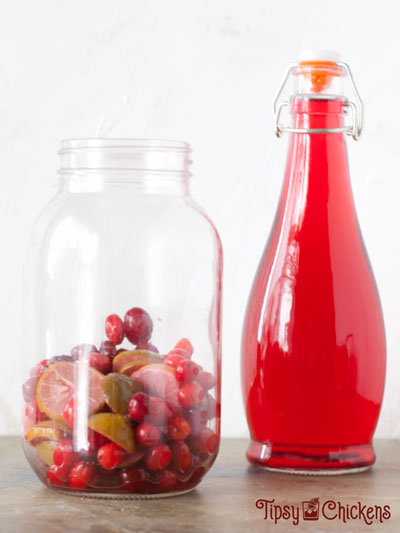 When you're happy with the flavor stain out the cranberries and limes. I use a metal mesh strainer for this batch. It turned out mostly clear but if it doesn't drip it through a coffee filter to remove any unwanted sediment.
Use a funnel to transfer it into a pretty bottle and store in the fridge. Technically you should be fine with it on the shelf but I'm a worrier and a single bottle doesn't take up much room.
Serving Ideas for Cranberry Lime Vodka
If you're looking for a low-calories cocktail that doesn't skimp on flavor this is the one for you! Fill a glass with ice, add an ounce or two of the Cranberry Lime vodka and top with plain seltzer or tonic water if you're feeling that quinine flavor.
There isn't a lot of natural sweetness in this vodka, if it's too much for you add a bit of simple syrup or a splash of orange juice.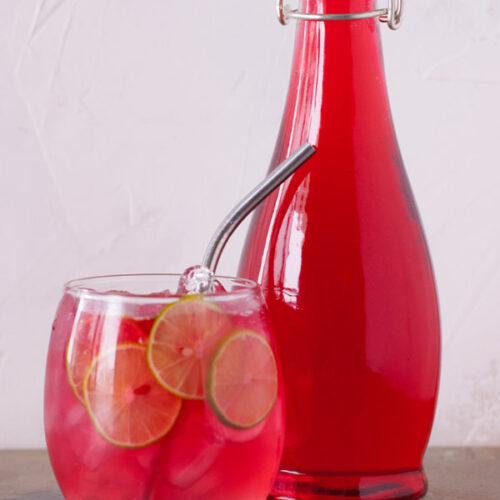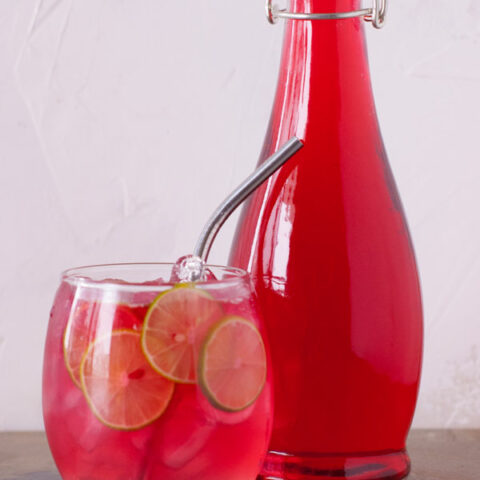 Cranberry Lime Vodka
Yield: 3 Cups

Prep Time: 5 minutes

Rest Time: 5 days

Total Time: 5 days 5 minutes

Turn plain vodka into something special with the help of fresh cranberries and lime, this infused alcohol is perfect in a vodka soda or try a Cranberry Lime Vodka Tonic
Ingredients
1 Cup Cranberries, clean and picked over
2 Small Limes, cleaned and thinly sliced
2 Cups Vodka
Instructions
Use a sharp knife to put a small slice in each cranberry.
Place cranberries in a clean jar and pour in vodka.
Seal the jar and leave in a cool, dark cabinet for 3 days, shaking once a day.
Add sliced limes and re seal, leave for another 2 days, shaking once a day.
Taste on the 5th day, if you'd like it to be stronger leave for a another day
Strain to remove limes and cranberries, if you want a clear liquid run it through a coffee filter after staining out the large pieces of fruit
Transfer to a clean bottle
Notes
Try this in place of plain vodka in a simple vodka soda or with tonic water
Recommended Products
As an Amazon Associate and member of other affiliate programs, I earn from qualifying purchases.

Check out my Infused Alcohol page for more ideas or start here: