If you're looking for a holiday cocktail you're in luck! I'm calling this seasonal twist on the classic Jack Rose the Winter Rose.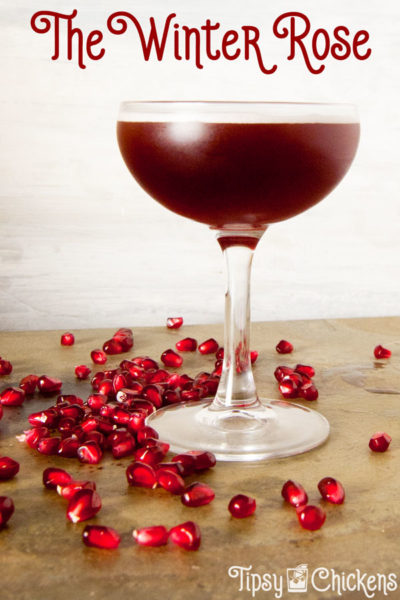 It's a little sweet, a little tart, not so strong it'll put you on your ass but it will definitely get the party started. All in all, it's a pretty and easy drink that will appeal to a lot of people. Which makes it a perfect party cocktail!
Jack Rose Cocktail
The classic Jack Rose is a mix of Applejack, lemon or lime and grenadine. It's an older cocktail, dating back to the early 1900's. Applejack is an American classic from way back. If you're interested in the history check out my recipe for an Applejack Hot Toddy.
The Jack Rose was really popular in the 1920's where it played a role in the Hemingway classic The Sun Also Rises. And by that I mean, someone drank one.
The popularity of the Jack Rose has declined since then but it's making a come back with the rise of the craft cocktail movement. You probably won't find any in the local bars though so you'll have to make yours at home.
Probably due to the age of the drink, no one knows for sure where the name came from. There are a lot of theories but there's a pretty good chance the 'Jack' comes from Applejack and 'Rose' comes from the color of the drink.
Winter Rose Cocktail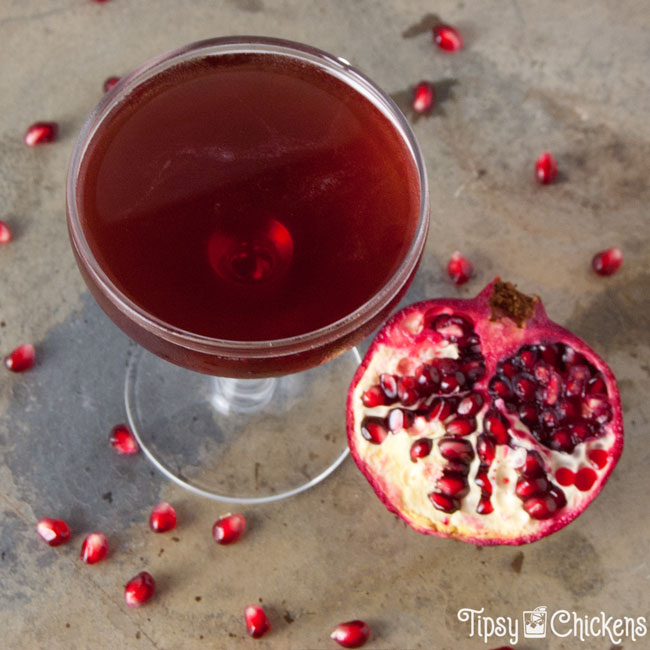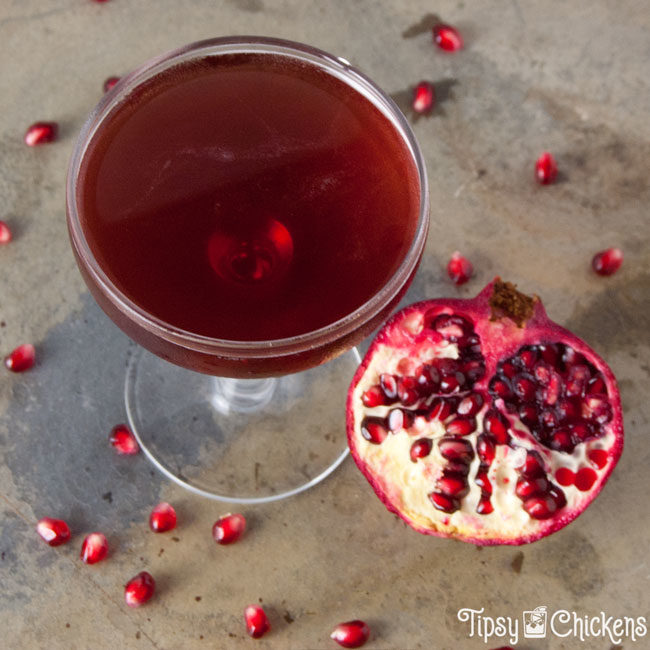 While the Jack Rose is a delightful cocktail on it's own I wanted to give it a bit of a holiday twist. I did it by swapping out the lime juice for pomegranate juice.
Make sure you're getting 100% pomegranate juice for this and not a juice cocktail. On it's own it's a sweet-tart and complex fruit flavor but that gets lost when you add it to blueberry or cranberry or mango. POM brand is easy to find and a bit expensive. I bought mine in a glass bottle from Aldi's.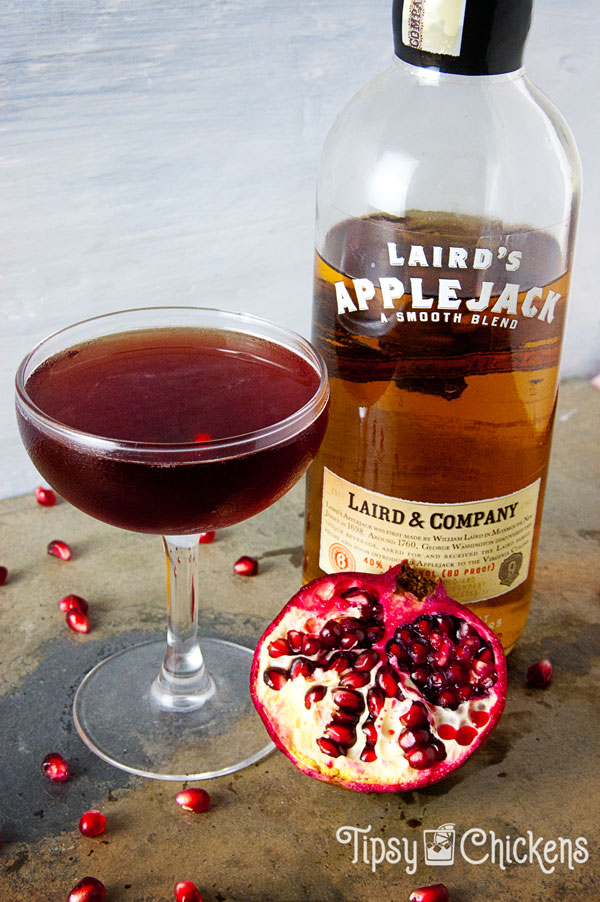 This version of the Jack Rose gets it's color from both the pomegranate juice and grenadine. Today we tend to think of grenadine as a super sweet but mostly flavorless red syrup. Which is accurate if you buy it from the store.
But it's really supposed to be a pomegranate syrup. If you have some homemade grenadine on hand you need to use it in this recipe, if not the store bought will work.
If you think it's missing something add a dash of Peychaud's bitters. It's not part of the original recipe but it really adds an extra dimension to the flavor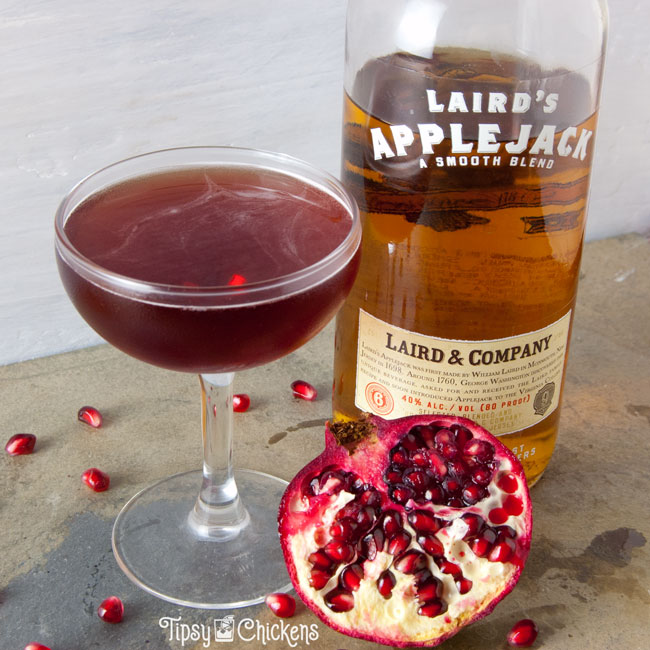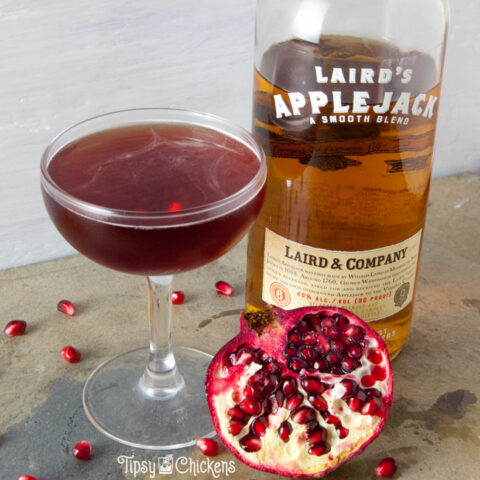 Winter Rose Cocktail
Yield: 1 Drink

Prep Time: 2 minutes

Total Time: 2 minutes

The Winter Rose is a charming variation on the Jack Rose cocktail & it's perfect for holiday parties with it's ruby color and fresh flavors
Ingredients
2 oz Applejack
1 oz Pomegranate Juice
1/2 oz Grenadine
Ice
Instructions
Shake Applejack, pomegranate juice and grenadine together until chilled
Strain into chilled coupe glass
Notes
I made my Winter Rose with homemade Grenadine, if you use Rose's your drink will be much brighter
Recommended Products
As an Amazon Associate and member of other affiliate programs, I earn from qualifying purchases.

Check out my Fruity Cocktail Recipes or start here: