It's Fall M*#&%$*. If you're a fan of Iliza Shlesinger you know how that sentence ends in my head. Profanity aside, it IS fall and it's time to shove pumpkin into everything, where better to start than with a Pumpkin Pie Cocktail?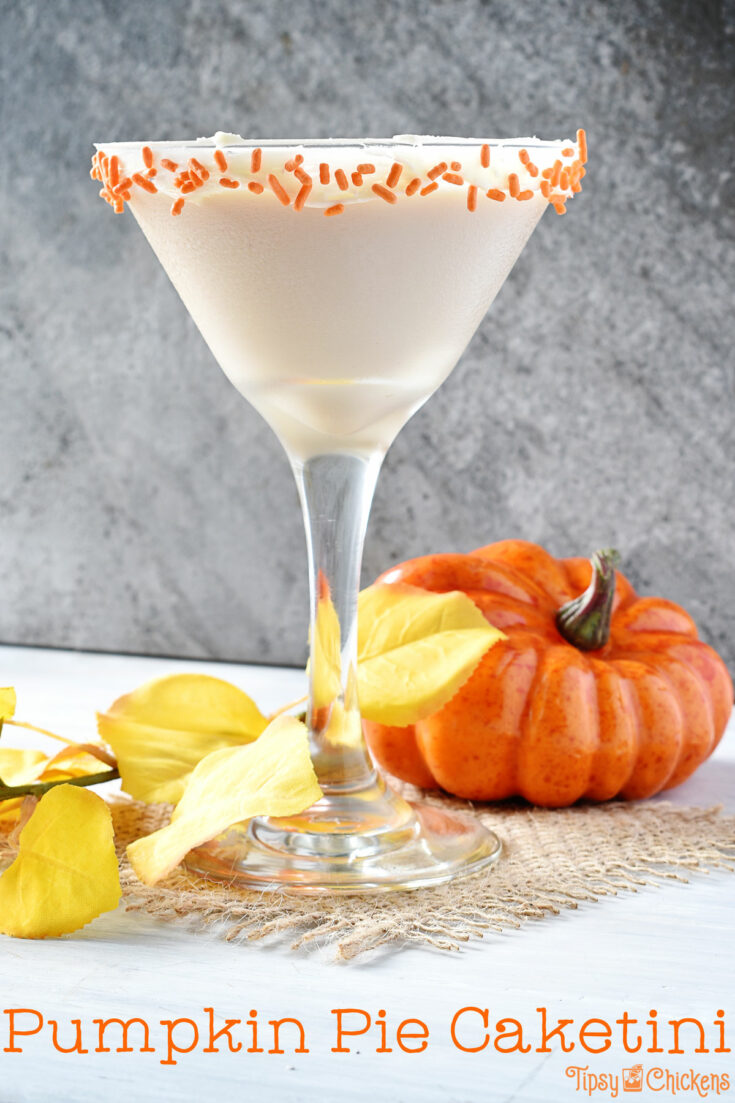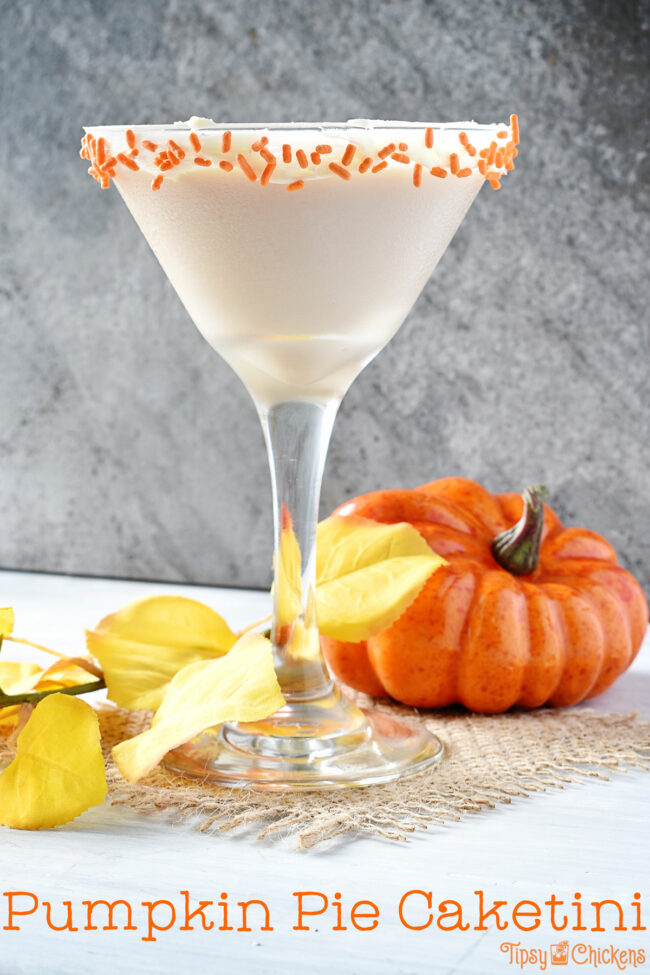 Let's get this out of the way, this is the girliest cocktail I've ever made. It makes up for the lack of pink and fruity with cake frosting and sprinkles. Oh and pumpkin pie liqueur.
It's sweet enough to appeal to the folks that don't want their cocktails to taste like alcohol but strong enough to make the rest of us happy, if you know what I mean.
The Booze
This Pumpkin Pie Caketini is only two ingredients, four if you count the frosting and sprinkles. You'll need a bottle of cake vodka and a bottle of Pumpkin Pie Cream Liqueur.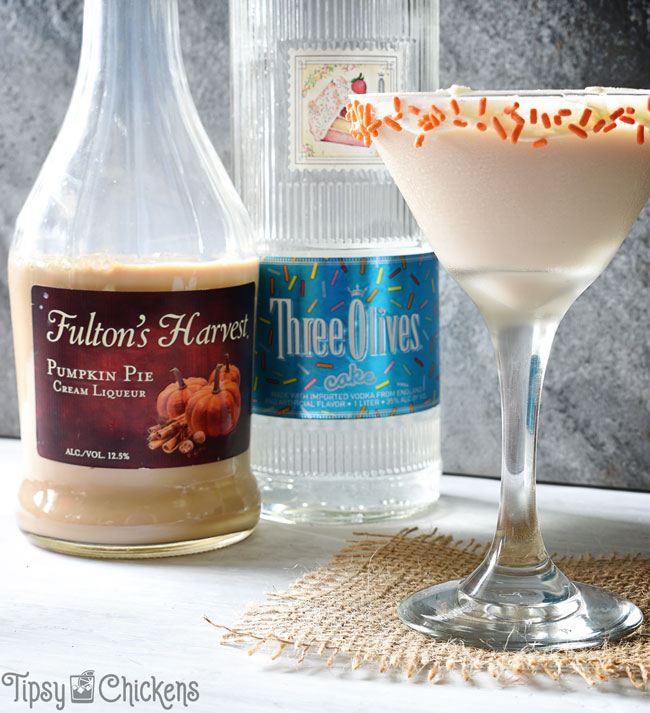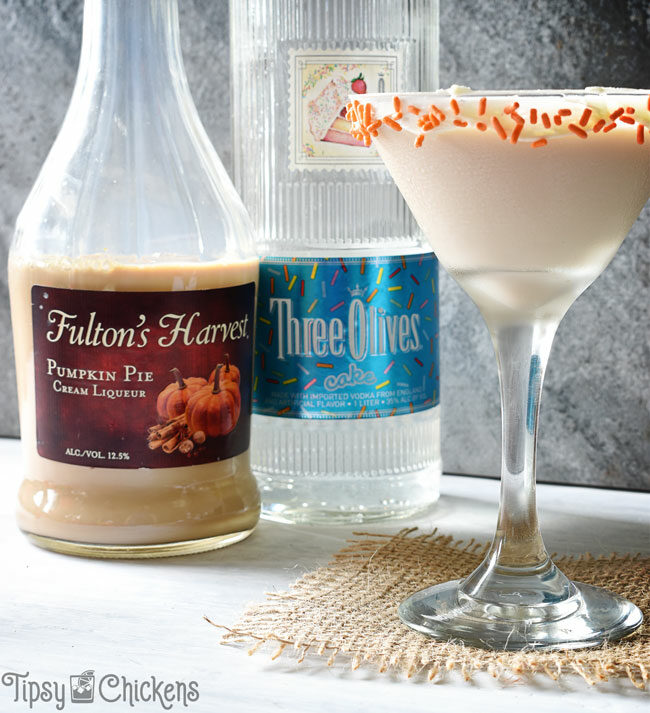 I'm finally killed my bottle of cake vodka from Three Olives on this, it's had a staring role in the Apple Cider Donut Cocktail and the Strawberry Shortcake Shooters. I have no complaints about the vodka, the flavor is good and it's not super expensive.
My only, super petty by the way, issue is that the bottle is too tall to fit on the shelf with all my other booze so it's been chilling by the microwave. I like to keep my alcohol together, in the dining room, out of the way.
I'm planning on picking up a bottle of Smirnoff cake vodka, I like their fruity flavored vodkas so I'm hoping it will be good. Let me know in the comments if you've played the cake vodka field and what your top choice is.
The pumpkin flavor comes from Fulton's Pumpkin Pie Cream Liqueur. Another favorite of mine, it's shown up in my Pumpkin Spice Latte Shots and the Spiked Pumpkin Pie Coffee House Steamer.
It's a cream liqueur, similar to Rumchata or Bailey's and it can be used in similar ways. You can also dump it in your coffee or Bubble Tea if you run out of milk.
The Build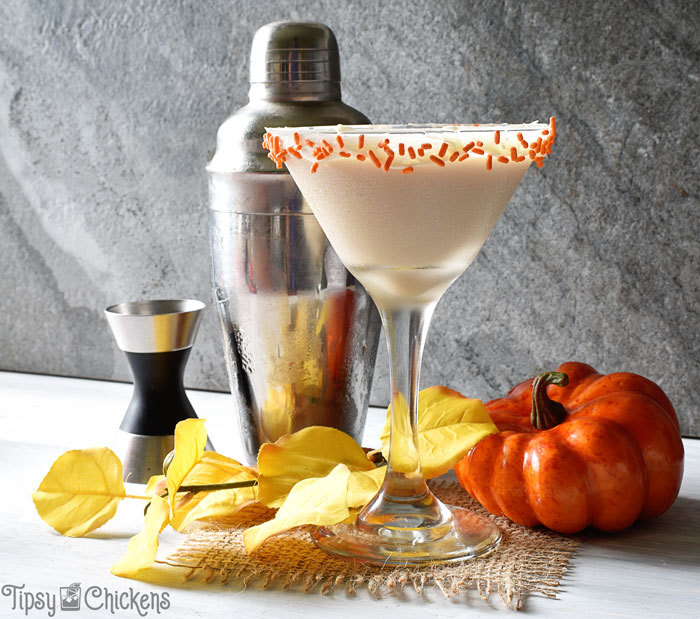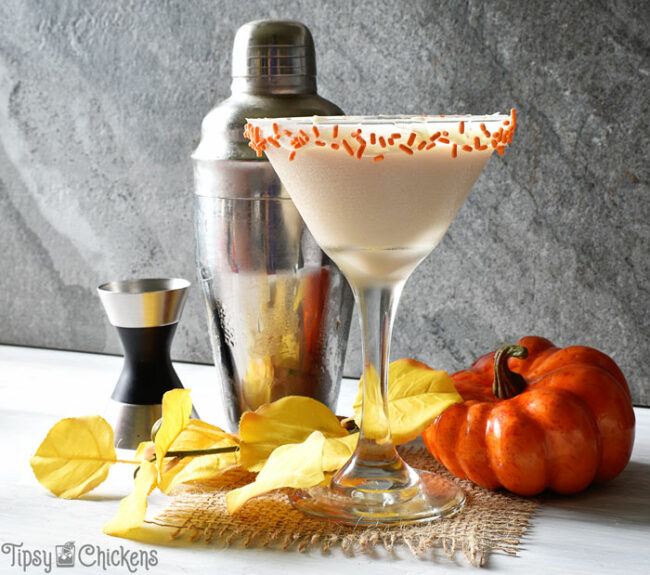 Get your glasses prepped before you start mixing up the pumpkin pie cocktails. There's no special trick to this, grab a butter knife and smear a light coat of frosting around the outside of the glass.
Add the sprinkles before the frosting has time to set. Flip the glasses over and let them sit upside down until the frosting hardens, you'll lose fewer sprinkles and the frosting wont get droopy.
The best way to mix up this pumpkin pie cocktail is in a cocktail shaker. You'll want lots of ice and some sass behind it to get the cream liqueur and vodka nice and cozy. Check out my post on MacGyvering a home bar if you happen to find yourself without any basic bar equipment.
When everything is nice and frosty strain it into your prepared glass, you can use a mesh strainer, fancy hawthorn strainer or just pop the top of your three piece shaker.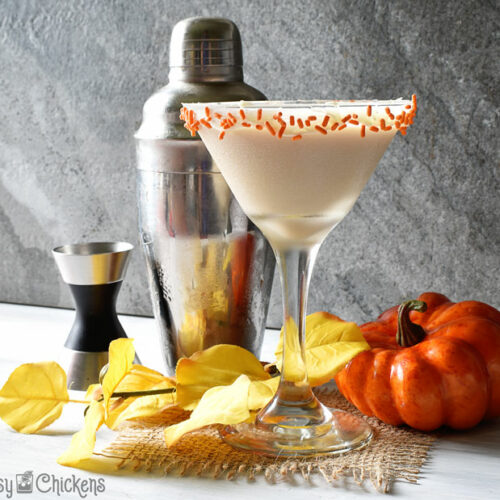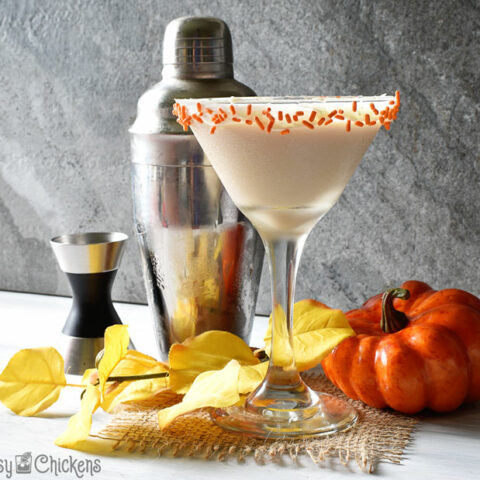 Pumpkin Pie Caketini
Embrace the fall weather with a Pumpkin Pie Caketini, this pumpkin pie cocktail only takes 2 ingredients & you can fancy it up with frosting & sprinkles
Ingredients
1.5 oz Cake Vodka
1.5 oz Pumpkin Pie Cream Liqueur
Ice
Vanilla Frosting (optional)
Orange Sprinkles (optional)
Instructions
Use a butter knife to apply frosting to the outer rim of a cocktail glass
Add sprinkles and set aside
Fill cocktail shaker with ice
Add cake vodka and pumpkin pie liqueur
Close and shake until chilled (shaker will be very cold and frosty)
Strain into serving glass
Notes
I only own one martini glass and it's a beast. The drink shown in the photos is 4 oz, not the 3 oz drink you'll get from the recipe.

Because it's sweet and strong I recommend sticking to the smaller size and making more as needed instead of one giant cocktail
Recommended Products
As an Amazon Associate and member of other affiliate programs, I earn from qualifying purchases.
Check out my Fall Cocktails page for more recipes or start here: