Chocolate and strawberry are an awesome combination, together they make delicious desserts and now we've got Chocolate Strawberry Shots! The simple two ingredient shot is layered in the glass and perfect for Valentine's Day.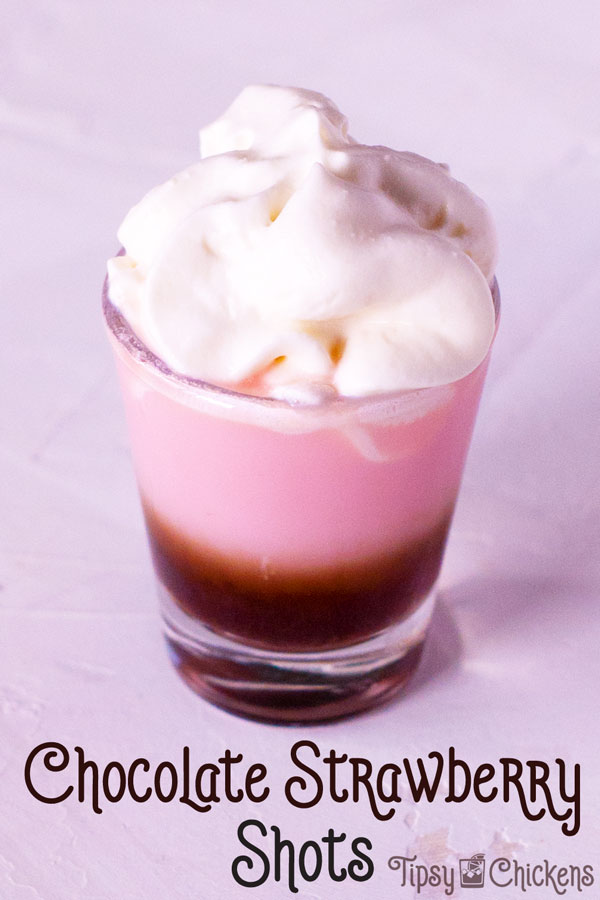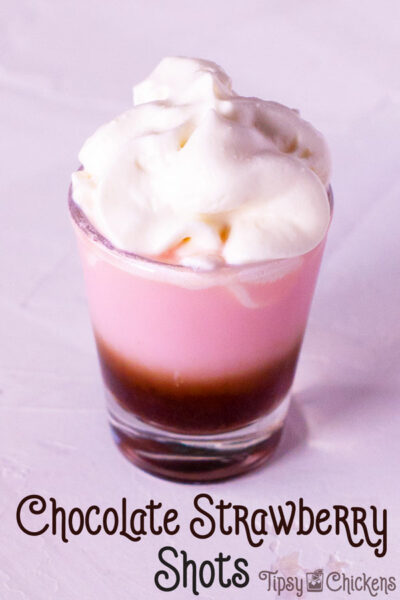 It's easy enough for a layering beginner but fancy enough for a Galentine's Bash.
Layered Shots
It's not hard to layer shots if you know one thing. Different types of alcohol have different densities and the farther apart they are the easier it is to stack them on top of each other.
If you want to experiment with your own layered shot recipes I recommend this chart of alcohol densities from Bartenderly. It doesn't have everything but it's a good starting point. Sometimes you need to experiment.
In general stronger liquors with fewer additives will float on of sweet, sugary liquids. That's why Grenadine sinks to the bottom of everything, it's basically flavored sugar. Higher proof booze will stay higher in the glass.
When you're building a layered shot make sure you start with the heavier liquid and layer the lighter one on top of it. If there is a large difference they'll switch places but you'll have a cleaner break if you do it "the right way"
To layer all you need to do is pour the heavier ingredient first and them hold a bar spoon upside down just touching the bottom liquid. Slowly pour the next ingredient over the back of the spoon lifting it as you go.
Chocolate Strawberry Shot Ingredients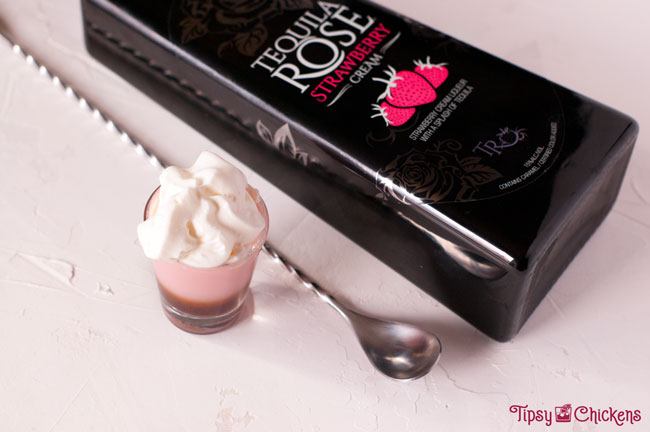 The main ingredient for this shot recipe is Tequila Rose. It's a strawberry cream flavored tequila that comes in a black bottle. Fun fact, if you put the bottle in the fridge you can tell it's cold when the rose turns pink.
If you're looking for more Tequila Rose shots check out my recipe for Strawberry Shortcake Shots on my other site Chicken Scratch NY.
As far as the chocolate in this shot, I tried it out with Godiva Dark Chocolate Liqueur and Hiram Walker Creme de Cacao. Both types of chocolate liqueur and the Tequila Rose are 30 proof.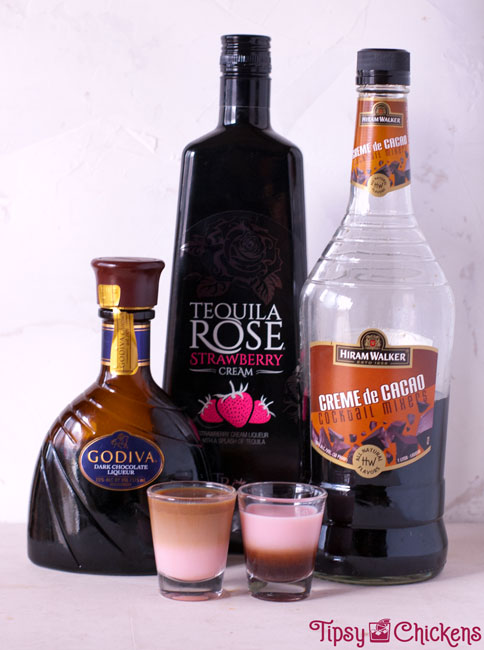 Turns out when you layer them with Tequila Rose one sinks and one floats! In the shot made with Godiva Dark Chocolate Liqueur the chocolate barely floated on top and there was a large band where the two mixed.
In the other shot, the one made with the Dark Creme de Cacao, the chocolate layer was happy to sink to the bottom and the pink of the Tequila Rose was much cleaner.
I drank both and I don't think there was that much difference in flavor so if you've only got the Godiva on hand go for it. But if you're hitting the liquor store and you need to buy something get the Dark Creme de Cacao for a prettier shot.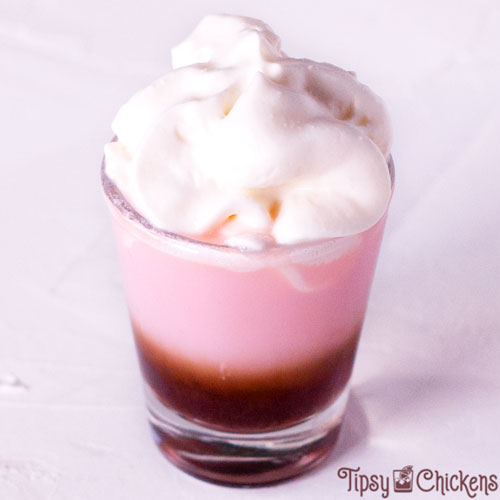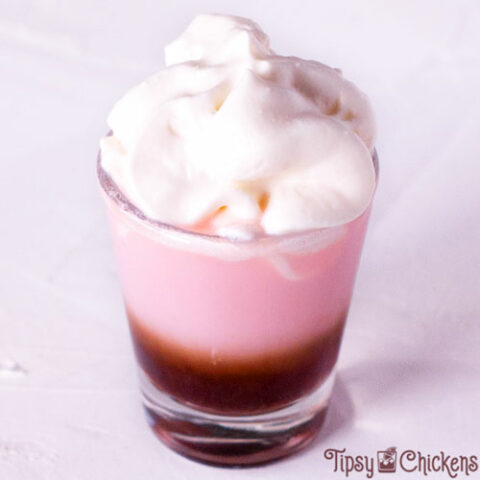 Chocolate Strawberry Shot Recipe
Yield: 1 Shot

Prep Time: 1 minute

Total Time: 1 minute

Enjoy a fun and very pink dessert shot made with Tequila Rose and Dark Creme de Cacao for a Chocolate Strawberry Shot in seconds
Ingredients
Tequila Rose, Chilled
Dark Creme de Cacao, Chilled
Whipped Cream
Instructions
Fill a shot glass 1/4 full of Creme de Cacao
Carefully float Tequila Rose on top using a bar spoon to keep the layers from mixing
Top with Whipped Cream
Recommended Products
As an Amazon Associate and member of other affiliate programs, I earn from qualifying purchases.

Check out my Shots page for more ideas or start here: