The Nightmare Before Christmas is an iconic Halloween movie and it deserves to be recognized with a boozy beverage. I nominated myself and I think it turned out pretty damn delicious.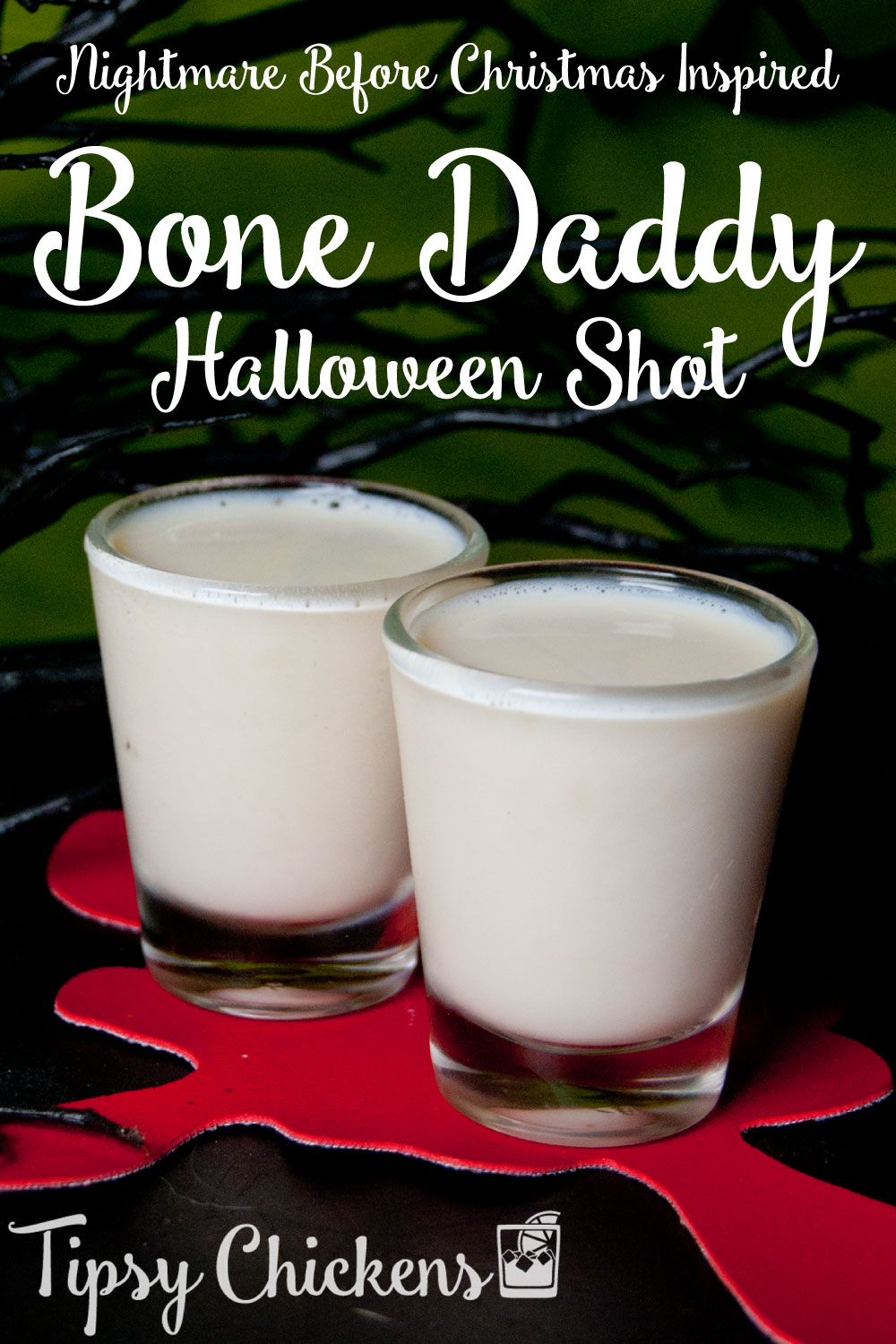 Please do some stretching, the story behind this recipe contains some serious reaches.
Earlier this year I made a batch of Sally inspired sugar cookies so I turned to Jack Skellington for this drink. After the big Halloween celebration the sax player calls Jack "Bone Daddy" hence the name.
Side note, wasn't that a cologne? I remember I wore the feminine counterpart 'Ragdoll' when I was super cool in high school… PS. Just googled it and you can still get it from Hot Topic!
I decided on a shot for a few reasons. One, Jack is a busy guy. He's making snowflakes and sewing a Sandy Claws suit. He doesn't have time to be sipping a cocktail. He needs a drink you can make and drink in a hurry.
Also, shots are party drinks. Aside from me, most adults aren't hanging around doing Halloween shots alone on a Tuesday. You can scale this recipe up for a party with no issues. The math is easy, even if you've been drinking.
Looking for more Christmas drinks? I've got you covered with 4 Easy Christmas Shots
The Booze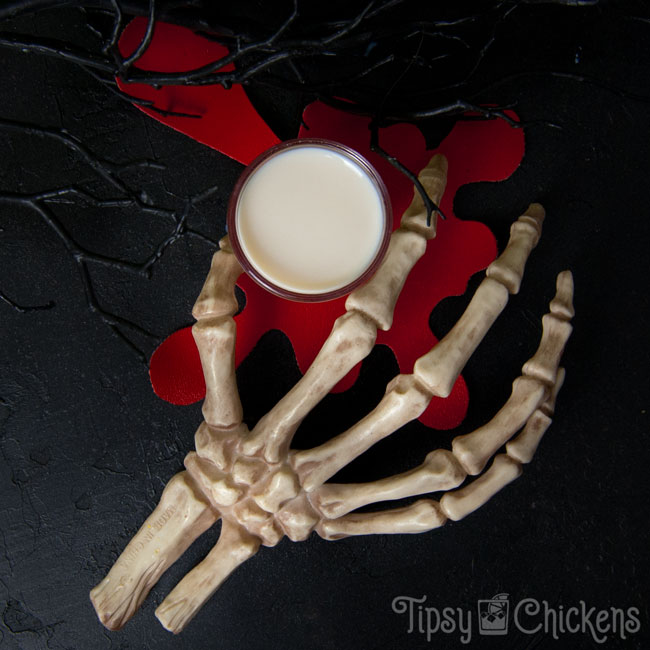 The Nightmare Before Christmas is about the collision of Halloween and Christmas so I wanted both holidays represented in the flavors while keeping the ingredient list trim. Very trim, like Jack (pull a muscle yet?)
All you'll need is a bottle of black rum and a bottle of cinnamon creme liqueur. RumChata is the most popular but there are other kinds available, usually for cheaper.
If you've never had it, RumChata tastes like Christmas morning. It's a smooth rum-based cream liqueur flavored with sweet cinnamon.
We're going to corrupt it. Black rum is.. a meaningless term? In general it's dark rum with a strong molasses flavor. I used Bacardi Black Rum.
Mixing black rum and cinnamon cream liqueur takes down the sweetness and makes the Halloween shot a little stronger. It's also gonna make the RumChata more palatable for those of you who aren't a fan of sweet booze.
The Build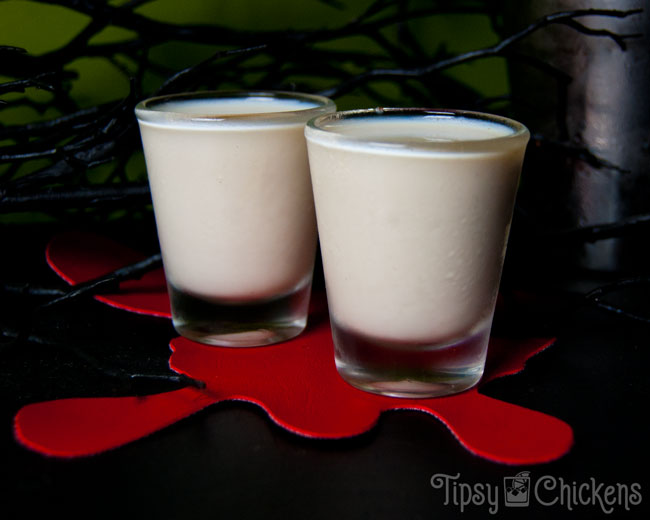 Shake together RumChata and Black Rum over ice. Strain and serve in shot glasses. It might be a little foamy from the milk content in the RumChata but I don't mind and I'd rather shake a drink than stir it.
Just like the Pumpkin Spice Latte Shots you can serve this as a cocktail to sip. But then my back story falls apart even more…
By the way, if you want to make yourself a set of those kick ass blood splatter coasters head over to Chicken Scratch for the tutorial and free pattern 😉
Don't forget to save this to your Halloween Party board!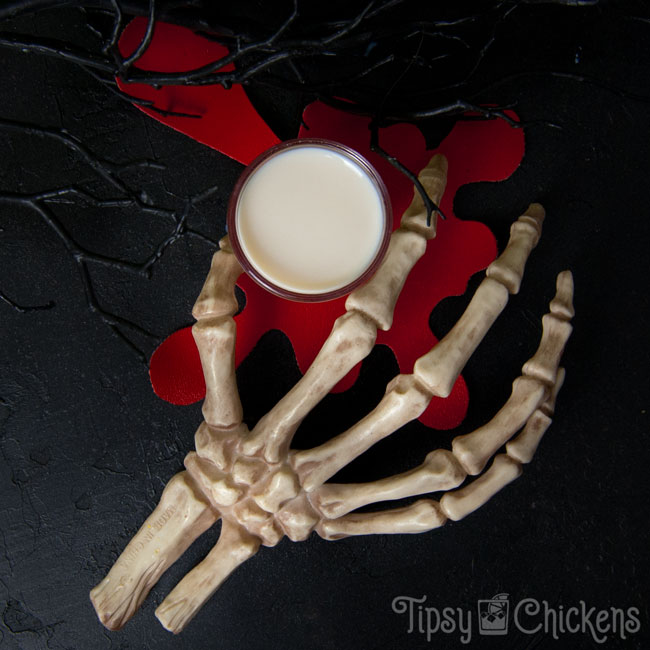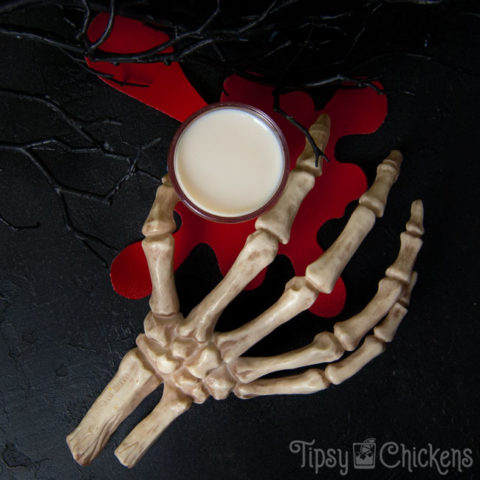 Bone Daddy Halloween Shots
Inspired by Jack Skellington and The Nightmare Before Christmas this Halloween Shot takes sweet Christmasy RumChata and corrupts it with Black Rum
Ingredients
.5 oz Black Rum
1.5 oz Cinnamon Cream Liqueur
Instructions
Shake together over ice until chilled
Strain into shot glasses and serve
Dramatically sing 'This is Halloween"
Check out my Halloween Page for more ideas or start here: